AI Scale-Up EAIGLE Harnesses the Power of Ontario's Tech Ecosystem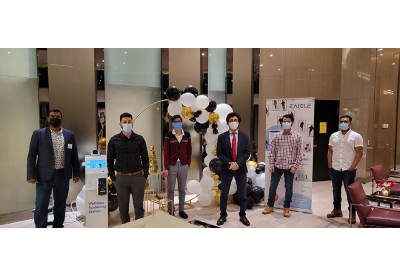 February 16, 2022
The road to success for Markham-based artificial intelligence (AI) solutions scale-up EAIGLE began in perhaps the least techy place imaginable: public swimming pools. Health and safety protocols dictate that water in city pools must be changed based on how many people swim each day. But according to EAIGLE Co-Founder and CEO Amir Hoss, many litres of water are typically wasted every day, which has a drastic impact on our environment. With his experience working on smart cities, Hoss teamed up with University of Toronto PhD graduate and current EAIGLE Co-founder and CTO Mahdi Marsousi to develop a way to count the number of people who visit the pool using an image processing software powered by deep tech AI.
"We saved them [the city] water, we saved them gas, we saved them electricity, which helps plenty with the [greenhouse gas] emission reduction target. Also, we kept the environment safe for residents," Hoss said. This was in 2018, and EAIGLE continued in this niche market, with market interest in Ontario and British Colombia, even earning a contract in Shanghai, China. Then in March 2020, the world stopped.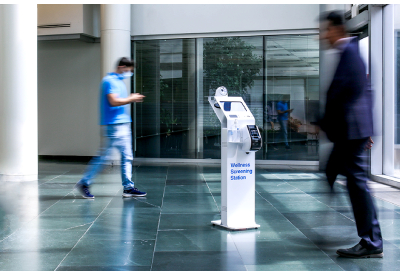 Pandemic pivot
"[Amir] and I were on a call one night, discussing the impact of Covid on the swimming pools and public recreational facilities; We knew that the demand for our swimming pool solution would reduce temporarily,'" Marsousi recalled. "'We knew that there will be a great demand for monitoring foot traffic of individuals in workplaces.'"
Some companies were already using temperature guns. They would point the temperature gun at each person's forehead to identify the customers or employees with higher than normal temperatures and limit the spread of the virus. But Hoss knew this was inefficient and costly, especially for large enterprises with thousands of employees. Within a couple of days, he came up with an innovative way to use visual, audio and Internet of Things sensors powered by AI technology to monitor temperatures automatically as employees walk through the door. For Hoss, a critical factor has been Ontario's tech community, which is not just competitive—everyone's trying to attract the best talent—but also collaborative.
"We designed the deep learning models and created everything from zero to a hundred," Marsousi said, adding that none of the work was outsourced. "Between two to three months, we had the initial deployment, which was working and functioning and then we started to just add more."
EAIGLE developed a comprehensive solution for wellness screening to allow employees to complete wellness surveys and thermal screening in person or online while also validating vaccine passports.
"[Companies] have to trust the technology in a way to really redesign their whole entry process," Hoss said. "That's been pretty exciting and amazing because what we've been doing was certainly impacting businesses at scale."
EAIGLE's technology doesn't collect personal information; It complies with privacy regulations, and individual employees are never named or tracked.
"Aside from the fact that we are not recording any video or images and all the processing is happening within the premise of the customer, we also don't collect any personal information, and that's key to our compliance with privacy and security assessments," Hoss said.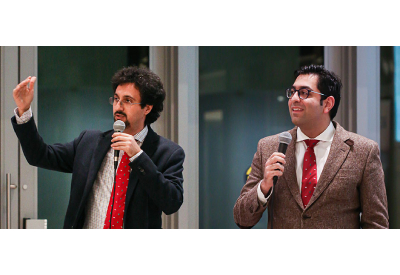 The Ontario edge
Since its timely pandemic pivot less than two years ago, EAIGLE now works with top-tier clients across the U.S. and Canada, including the largest big-box retailer, meat processing facility, dairy production company and entertainment facilities. In all, the technology gets six million active monthly users, and EAIGLE itself has quadrupled its team headquartered in Markham. Hoss also highlighted how beneficial Toronto, Ontario, is for business-to-business sales since many head offices are within driving distance. "This is a luxury that you can't find in a lot of other provinces or even states in the U.S." Without Ontario's world-class institutions like the University of Toronto and the University of Waterloo that attract top talent from across the world, Marsousi says EAIGLE wouldn't have been able to grow the way it has.
"The University of Toronto has been one of the best Canadian universities worldwide to bring in technologies, start theories and make it happen in real life," Marsousi said.
For Hoss, a critical factor has been Ontario's tech community, which is not just competitive—everyone's trying to attract the best talent—but also collaborative.
"Ontario is growing fast because [in] the startup ecosystem, companies are supporting each other," he said. "We have advisors—they run 5- to 10-year-old companies that are starting to scale up—and they help us without any sort of expectation."
What's more, accessibility to grants—like the National Research Council's Industrial Research Assistance Program and Ontario Centre of Innovation—has been more accessible and more efficient than in other places, according to Hoss.
"Ontario itself has a variety of supporting programs for startups and scale-ups, which is much broader, richer and more mature compared to other provinces."
As EAIGLE continues to grow and develop solutions for its customers, its founders say they never want to leave Ontario.
"I think in the future, [Ontario] is going to be above even the Bay Area," Marsousi said.