Methane Leak Detected from Space in the UK Successfully Mitigated
September 21, 2023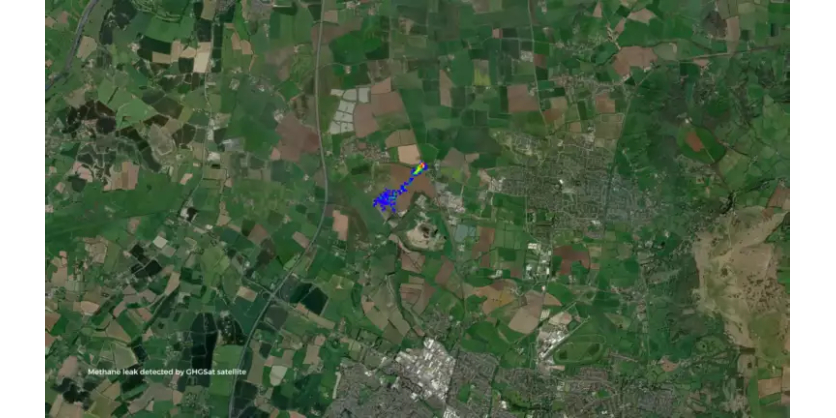 Methane emission identified by researchers from the University of Leeds using GHGSat's high-resolution data
Satellite measurements confirmed by ground team from Royal Holloway, University of London
Pipeline owner Wales & West Utilities quickly deployed workforce and fixed the leak once alerted
Methane leaking from a faulty pipe in Cheltenham, Gloucestershire, has been observed by GHGSat satellites orbiting 500km overhead. The discovery, by NCEO researchers at the University of Leeds, using data from GHGSat, marks the first time a UK methane emission has been seen from space and mitigated.
Scientists came across the leak while working on a project investigating the ability of sensors mounted on telecommunication towers (the UK DECC network) to measure greenhouse gas emissions dispersed in the atmosphere. While reviewing data acquired through ESA's Third-Party Missions programme to support the project, the Leeds team identified an unusually large source near a landfill site they were focusing on. The source, near Cheltenham, was releasing methane at a rate of over 200 kg/hr. This was subsequently confirmed by researchers from Royal Holloway, University of London, who visited the site with their mobile measurement vehicle.
This discovery was made possible thanks to GHGSat's unique fleet of 9 commercial satellites, which monitor greenhouse gases at a resolution down to 25m on the ground. These high-resolution satellites attribute emissions to individual facilities – and with unprecedented sensitivity, making small leaks visible and accurately measurable from space.
They first recorded the Cheltenham emission on 27th March, at which point GHGSat re-tasked their constellation, increasing the allocation of capacity over the site. This resulted in 5 further successful measurements over a period of 2 months, showing emissions ranging from ~200 – 1,400 kg/hr.
The researchers and GHGSat immediately alerted the owner of the pipeline, Wales & West Utilities, who moved promptly to address the problem. Following an investigation, repairs were completed by June 13th, after which time GHGSat satellites recorded no further emissions.
It has been estimated that the total volume of methane that leaked from the pipe over the 11 week-period was equivalent to the annual electricity consumption of more than 7,500 average homes, according to the EPA calculator.
A scientific paper – evaluating the role that satellites can play in pinpointing methane leaks, with lessons drawn from the events in Gloucestershire – is being written by the researchers at the University of Leeds and GHGSat.
Emily Dowd, Principal Investigator and PhD student at the School of Earth and Environment and the National Centre for Earth Observation, University of Leeds, said: "Methane is a highly potent greenhouse gas and this work has shown that satellites can now provide a system to rapidly identify where leaks are happening so that action can be taken to minimise emissions and therefore the climate impact"
Bryn Orth-Lashley, Technical Operations and Service Delivery Manager at GHGSat, said, "This is a compelling example of why we must work collaboratively, bringing technologies, sectors, and people together to tackle a challenge as complex as climate change. The utility owner was able to fix the issue with credible and actionable information. With a growing satellite constellation measuring industrial emissions every day, these are the tangible outcomes that have an impact on emission reduction goals."Bryn Orth-Lashley, Technical Operations and Service Delivery Manager at GHGSat
Claus Zehner, Sentinel-5P Mission Manager at ESA, said, "This unexpected detection of a methane leak using GHGSat measurements by the University of Leeds and the quick repair of it as a follow up by the utility owner is really an impressive example of active climate mitigation."Claus Zehner, Sentinel-5P Mission Manager at ESA
GHGSat, an ESA Third Party Mission (TPM) since 2022, serves as a complement to Sentinel-5P and other existing and future missions. The data is used increasingly in a range of ESA Earth observation domains linked to Climate Change and Atmosphere Monitoring. The mission allows the identification of methane hot-spots and emissions, providing new insights about the Global Methane Cycle, supporting European scientific activities on monitoring of international climate treaties in synergy with ESA/Copernicus missions.
In June of this year, GHGSat signed a new £5.5m partnership with the Satellite Applications Catapult, to provide satellite data on domestic and international methane emissions to UK organisations. In addition, GHGSat will provide observation data directly to the UK Government and Ordnance Survey. The company is also opening an international analytics centre to be co-located in London and Edinburgh.
More Information
Related Story
Canadian company GHGSat, which specializes in high-resolution GHG monitoring from space, launches three new ABB-built optical sensors into space aboard a SpaceX Falcon 9 rocket from Cape Canaveral Space Force Station, doubling capacity to monitor methane gas emissions.