Advanced Micro Controls Inc. Sales Rep Territory Expands Through Midwest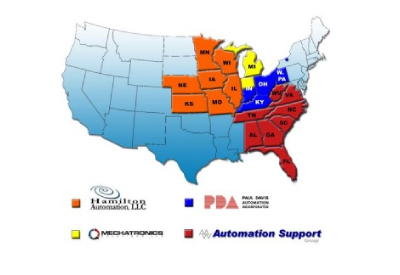 March 3, 2022
Advanced Micro Controls Inc. (AMCI) has realized growth throughout the Midwest United States, and recently expanded their local sales representation across four additional states to better service these markets. AMCI's local sales representatives have a deep knowledge base of AMCI products and provide assistance with product selection and support. AMCI sales reps help customers and OEM's find the best solution for their application.
Hamilton Automation – Adding Kansas, Missouri, & Nebraska
Hamilton Automation, LLC has represented AMCI since 2013, and recently expanded its territory into three additional states; Kansas, Missouri, and Nebraska. Their sales team brings years of practical experience working with OEM machine builders and system integrators, especially in the packaging and heavy industry markets. http://www.hamiltonautomationllc.com/
Mechatronics Solutions – Adding Northern Indiana
Mechatronics Solutions, LLC began representing AMCI in 2018, and recently added local sales support for north-central Indiana. Their sales team offer a deep understanding of customer requirements through years of experience working alongside OEMs and machine builders on the shop floor. Mechatronics' extensive knowledge of motion control technologies and PLCs come from a high-tech distributor background. http://www.mechatronicsllc.com/
Paul Davis Automation – Adding Southern Indiana
Paul Davis Automation has been working with AMCI since 2010, and has expanded their territory to include sales for central & southern Indiana. Their sales team provides over thirty years of automation and process control experience. Paul Davis Automation will be looking into customer orders, promoting new AMCI products, and helping customers understand how AMCI control solutions can help them. http://www.pauldavisautomation.com/
AMCI sales reps support business growth by working closely with the channel, customer orders, and introducing innovative new products from AMCI to the market. AMCI's distribution network makes it easy for you to purchase their industrial control products from anywhere in the United States or Canada. International customers are also welcome.Please use the contact form on this page to request the stocking distributor(s) best suited to meet your needs.
To find a distributor near you, click here