Schunk: Smart to the Power of Two – the New iTENDO2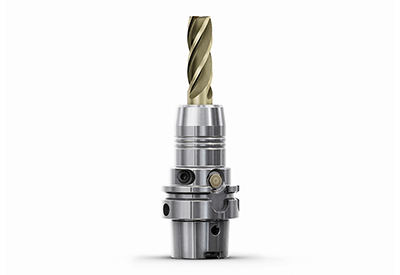 October 13, 2021
Milling, countersinking or micro-cutting ─ the intelligent iTENDO toolholder has already proven its benefit in numerous applications. Now its successor is being launched on the market: the iTENDO2 is more compact, more powerful and offers significantly more possibilities for applications. Due to its downsized design, it can replace standard toolholders one-to-one and can therefore also evaluate series operations. In addition, its increased rotational speed makes it suitable for applications such as in the fields of aerospace technology and micro-cutting.
The iTENDO² detects when something is wrong with the cutting process. For example, if excessive vibrations occur, if there are chatter marks, or if a tool is on the verge of breaking. Equipped with a sensor, a battery, and a transmitter unit, the smart toolholder monitors vibrations directly on the tool. If the condition of the cutting edge or the tool changes, it can react in real time due to the closed control loop, thereby preventing damage to the workpiece or tool.
Its predecessor iTENDO already excelled in several fields of application when it came to classic milling and beyond. The iTENDO² is now opening doors to even more possibilities: With its increased speed of maximum 30,000 RPM, there are extensive application possibilities in the aerospace industry, glass processing, the automotive industry and medical technology. It also demonstrates its capabilities on demanding series operations. Due to its optimized installation space, it can replace standard toolholders one-to-one. That eliminates the need to reprogram the machine. Its interfering contour remains unchanged as compared to standard toolholders. The new iTENDO2 will be available starting in October in size TENDO HSK-A 63 with a diameter of 20×90. Smaller clamping diameters can be covered by using intermediate sleeves.
For an easy way to get started with process monitoring, SCHUNK offers the iTENDO² in three different equipment packages. They all meet different user requirements for data usage. Commissioning is especially fast with the iTENDO² pad package. Here, the smart toolholder is delivered to the customer with a tablet PC already in the aluminum case. In other words: plug it in, connect it to the tablet PC and it's ready to go. Using the app supplied, the user can retrieve all the important data directly on the tablet PC and use it for parameterization and trend analyses. The focus is on process transparency and simple process optimization to avoid vibrations. This means that not only better surface qualities can be achieved, but also significantly longer tool service life. SCHUNK will launch the iTENDO2 easy connect in the spring of 2022. This more specialized version will not only allow customers to be able to track their processes through its data interface, but also to monitor them as well as their machines. And the planned iTENDO² pro package will offer even more possibilities. Due to full machine integration, users will also be able to use this equipment to control processes in real time.