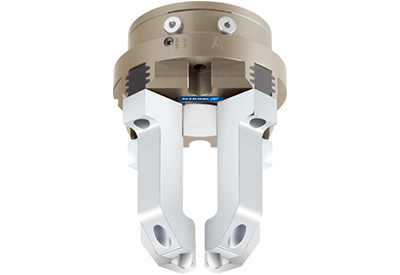 June 3, 2021
SCHUNK's pneumatic, 4-finger universal grippers are designed for reliable and precise palletizing/depalletizing, and positioning of cylindrical workpieces in assembly and production processes.
The option of combining grippers with sensor systems, product-specific gripper fingers or force-measuring jaws offers increased productivity. Furthermore, innovative design tweaks, such as multi-tooth guidance and wedge hook kinematics, are combined with state-of-the-art production technology to ensure precision and robust reliability, and therefore safe investments with a long service life.
The multi-finger gripper for cylindrical workpieces.
SCHUNK offers you the most extensive program of standard gripping modules. We also offer suitable solutions for special applications. More than 30 years of development experience in industry and customized gripper solutions has made our customers trust us. SCHUNK always has the best solution.
SCHUNK's performance promise, your benefits.
– Permanently high functionality
– Decades of experience, also in manufacturing special grippers
– Wide range of accessories