Phoenix Contact: Easy Mobile Marking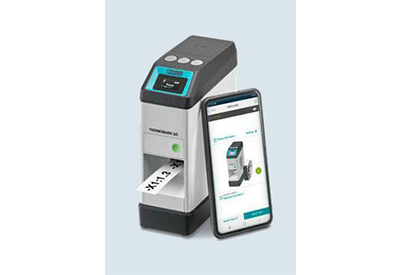 June 29, 2021
As more and more components are networked, clear marking in plant, control cabinet, and distributor construction has become increasingly important. Mobile printing systems that can be controlled using an app make marking in the field of electrical installation easier.
The demands on on-site marking are constantly growing. In addition to the clear and consistent marking of terminals, wires and cables, as well as equipment and systems, compliance with a growing list of standards must be ensured.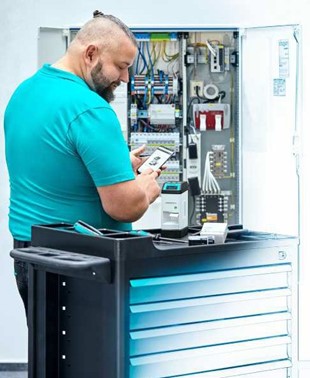 Digitalization of marking processes
Mark easily and professionally at any time, directly on site – mobile printer systems deliver this advantage. High flexibility, guaranteed short working paths, no accidental double processing of missing markings – they all make the work more efficient while saving time. Phoenix Contact presents a mobile system solution with a printer, software, and marking materials: the new THERMOMARK GO thermal transfer printer.
Combined with the MARKING system app, it offers the most practical solution: simply use your smartphone to intuitively interact with the printer.
Printer controlled via app
The THERMOMARK GO label printer is equipped with Bluetooth technology. It can connect your smartphone to the printer completely wirelessly and start the marking process via the free MARKING system app.
For added convenience, the printer's NFC function quickly and easily establishes a Bluetooth connection to your device. All you have to do is place it on the THERMOMARK GO.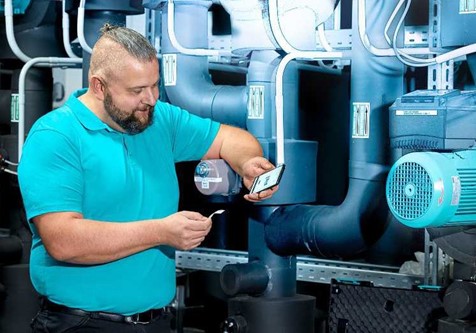 The app provides all the options for creating complex markings. You can design the marking to your specification within the limits of the material description, depending on the material inserted. In keeping with the saying "what you see is what you get," you can view the result on the screen at the end of the design process. This allows you to perform a final check before you print.
Automatic material detection
Numerous editing options make it easier to create complex markings. Object types such as text fields, symbols, or barcodes can be placed and rotated anywhere within the entire editable area. In addition, you can easily and efficiently organize projects in folders. You can work on projects easily and effectively – directly on site.
For even greater efficiency in the mobile marking process, the THERMOMARK GO features automated material detection. After you have placed one of over 100 available material variants in the mobile printer, the printer will detect which material was inserted and display it in the app. Using the "Smart Edit" function, the corresponding menu bar will open automatically.
Previously created projects will be selected and adjusted based on the material inserted. You will be supported throughout the entire process by a context-based menu navigation system that will only enable the functions relevant to the respective application.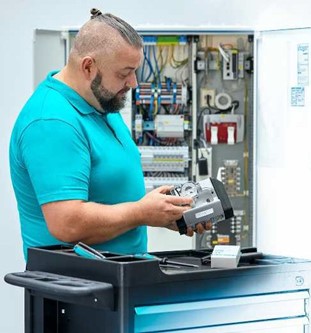 To create standard-compliant markings, such as for patch panels in accordance with TIA-660-C, certain preliminary knowledge is necessary. To enable you to create standard-compliant, standardized markings even without preliminary knowledge, the MARKING system app uses application wizards. They guide you step-by-step from material selection and standard-compliant data input to the finished print job.
Summary
Together with a versatile portfolio of materials, the THERMOMARK GO enables a high degree of flexibility for the professional marking of terminals, conductors and cables, as well as equipment and systems. Alongside materials in continuous format, which are simply cut to a specific dimension for a specific application, pre-cut materials are also available for convenient conductor, cable, and equipment marking. You receive a high-quality marking solution for on-site marking that is practically identical to a conventional desktop marking system in terms of its functional scope. When you use the MARKING system app, even extensive marking projects can be created and processed conveniently on the go. The THERMOMARK GO the ideal system solution for professional marking on construction sites.
For additional information, visit phoenixcontact.com/ThermomarkGo