New CLICK PLUS PLC Series From AutomationDirect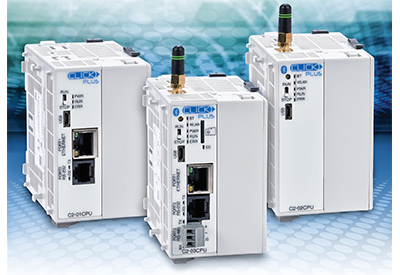 February 26, 2021
The new CLICK PLUS PLC series is the next generation of simple control. Building on the practical and popular CLICK PLC series, CLICK PLUS PLCs provide the same low-learning-curve control but with advanced options like Wi-Fi communication and data logging.
CLICK PLUS CPUs are offered in wired-only, wireless-only, and wireless/wired styles and start at only $89. All three CPUs offer convenient USB programming and support the IIoT standard MQTT protocol as well as Modbus TCP. CPU modules with a built-in Ethernet port also support EtherNet/IP communication, and serial-capable models utilize Modbus RTU. Wi-Fi-capable CPUs provide time-saving installations as no new network cabling is required (antenna sold separately).
Each CPU has a slot for an optional I/O module so it can be configured as a stand-alone PLC with the user's preference of I/O. Numerous Option Slot I/O Modules (starting at $54) are available to add discrete I/O with high-speed capability, analog I/O, or combinations of both. For larger systems, up to 8 stackable I/O modules can be connected to the side of the CLICK PLUS CPU providing an additional 128 discrete or 48 analog I/O points.
The C2-03CPU ($189) also offers up to 32GB of data logging to an external microSD card. Scheduling and setup are done with the easy-to-use Data Logger configuration tool in the software.
CLICK PLUS PLCs use the same FREE software as the original CLICK PLCs. Improved port management, ping disable, and session security for connected devices have been added to help maintain system integrity.
Learn more by visiting https://www.automationdirect.com/click-plus-plc