Safe Monitoring of the Cardboard Feed on Packaging Machines with PILZ's Modular Safety Relay
February 2, 2023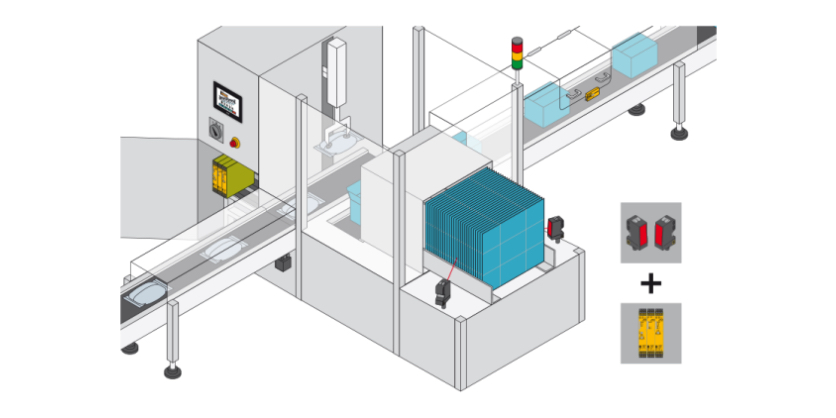 Packaging solutions must often accomplish one task above all: to safely protect operators. The same applies to monitoring the cardboard feed. In this case it is essential to avoid a scenario in which an operator can reach into the machine and get injured because the opening for the material feed is empty.
For this case Pilz offers a TÜV-certified solution up to PL d/Cat. 3 of EN ISO 13849- 1 or SIL CL 2 of EN IEC 62061, which can be assembled and adapted flexibly to safely monitor the feed of packaging material. Users can be confident that all the necessary safety precautions are met. Two optical sensors monitor the opening on the cardboard magazine.
If there is insufficient cardboard in the magazine, the sensors will report this state to the modular safety relay myPNOZ. The machine is stopped until the cardboard is replenished and production can restart.
Benefits of the solution with the modular safety relay myPNOZ and two optical sensors:
Can be called up pre-configured using the myPNOZ Creator type code: myPNOZ.91.CKA360AB000XB700 with semiconductor outputs or myPNOZ.03.CKA360AB000XD700 with relay outputs
Plug & play: wire up – ready to use immediately
Flexible: moderate adjustments can be made if additional safety functions are to be monitored
Easy: can be integrated into existing applications
More Information
Safe cardboard feed solution in packaging
Solution using the safe small controllers PNOZmulti 2
Related Story
As part of modernization of the electrical and control technology for the whole machine portfolio at Advanced Engineering Industrie Automation, the company switched to PC-based control technology on the automation side. However, as the workspaces are enclosed, Advanced Engineering consciously decided against an integrated safety solution for the newly fitted safety technology.
myPNOZ offers Advanced Engineering exactly the modularity they were looking for: With the available expansion modules, all applications – E-STOP, safety gate switch with/without guard locking and light curtain – can be covered on the machines.