Festo's New Space Optimized DSNU-S Shaves off Size, Weight of Standard ISO Round Cylinder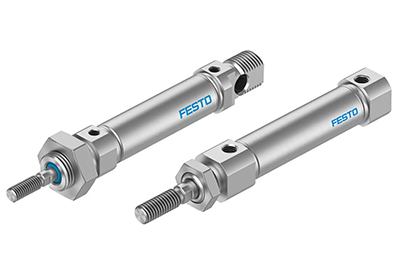 July 26, 2021
The new DSNU-S round cylinder is the latest response from Festo to the need of machine designers for smaller versions of standard components so they can shrink the footprint of their machines or production lines accordingly. The DSNU-S, part of Festo's core product range of always-in-stock components, is up to 40% slimmer, 3.5 cm shorter and 50% lighter than its ISO counterpart DSNU of the same bore and stroke length. The DSNU-S is designed for direct mount installation and built for great reliability and a long service life, thanks to its low-wear PUR seals and corrosion resistant piston rod and housing. Being part of the Festo core range means both the DSNU-S and DSNU ISO are always in stock worldwide, and easy to order at attractive pricing.
Depending on the size (8-25 with a maximum stroke length of 200 mm), the DSNU-S is available with fixed end cushioning (P) or Festo's proprietary self-adjusting cushioning (PPS). The latter makes commissioning easier and eliminates the need for further adjustments for load changes over the lifespan of the cylinder. It assures perfect cushioning with every stroke. PPS is a particular advantage when cylinders are in difficult-to-access locations.
Need higher performance, more size or options? The DSNU ISO round cylinder also provides low-wear PUR seals and corrosion resistant piston rod and housing featured on the DSNU-S. Unique features of DSNU ISO include a heavy duty sintered bronze bearing at the bearing cap and polymer bearing in rear clevis for long service life even with greater lateral loading in long stroke or swivel applications.
Watch Darren O'Driscoll, Product Manager at Festo present the highlights of the DSNU-S.
To learn more, visit Festo's page dedicated to the DSNU-S and DSNU round cylinders.