Advanced Trumeter Graphical Panel Meters from AutomationDirect are Easy to Read and User Programmable
March 8, 2023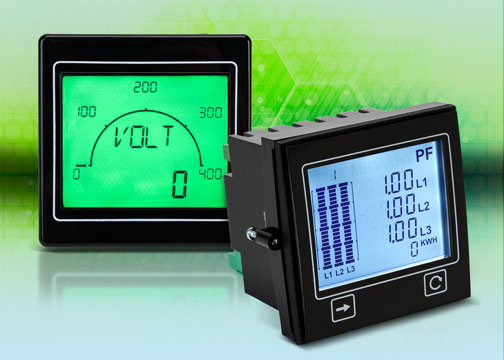 AutomationDirect has added advanced panel meters and a universal power meter to their Trumeter ADM series of graphical panel meters. These easy-to-read panel meters display critical parameters, provide a user-programmable scale and custom alarm messages which will immediately alert operators when a parameter is out of range.
Graphical Panel Meter Features
Trumeter ADM200 feature a large 4-inch display with a color-changing, full-color RGB backlight for instant alerts. Select models offer digital and analog outputs, Modbus RTU/TCP communication, and an IP65 protection rating.
Available models include multi-function meters to measure amps, voltage, frequency, or power (Watts, VA, Var, and power factor) for high voltage applications; all-in-one process meters can be configured as a process signal meter or can be used in conjunction with a shunt for low voltage applications.
The Trumeter ADM100 is a universal power meter that features a 3-inch backlit display, 4 alarm setpoints, and offers Modbus RTU communication via RS-485.
The new Trumeter ADM200 meters start at $212.00 and the Trumeter ADM100 meter is priced at $141.00.  Both the ADM200 and the ADM100 meters have a 3-year warranty.
Another Mechatronics Canada article, "Trumeter Graphical Panel Meters and Hour Meters/Counters from AutomationDirect" available here
Source available here