Festo's Productivity Master Points the Way to Digitalization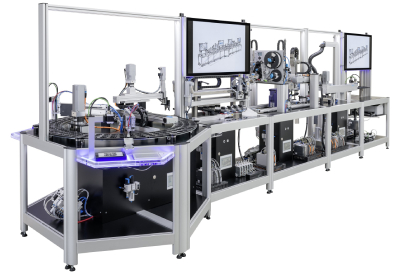 December 15, 2021
Festo's Productivity Master shows how digital manufacturing can revolutionize the total value experience for customers, making it feasible and cost-effective to offer them individualized products created by a fully automated process, from order placement to delivery. The Productivity Master seamlessly connects all handling hardware and software to create a digitalized production line that can be monitored by anyone from anywhere but is otherwise hands off from the vendor's perspective. It requires no human interaction with the customer and only such intervention as is necessary to maintain the system.
Digital Customer Journey
"We enable customers to select and size their products online, add them to a shopping cart, view their pricing and delivery in real time, and track their products throughout the supply chain," says Nigel Dawson, Head of Business Development Electric Automation at Festo. The Productivity Master perfects the balancing act between mass production and making a customized product. All components, axis mechanics and software are planned as a complete system. Since all parts fit together optimally, the engineering time to develop such a system is shortened and process reliability enhanced. The first production line was designed in record time using Festo's state-of-the-art digital engineering tools, with digital twins included. Designers and developers worked collaboratively worldwide. With the Festo Handling Guide Online, they selected and dimensioned 1D/2D and 3D gantries in just three steps. For quick, easy programming, configuration, and commissioning in a shared virtual environment, they used the Festo Automation Suite software.
Cloud-based data drives production
This initial Productivity Master layout, used for demonstration purposes, produces personalized USB memory sticks. It employs a cloud-based concept for registering and storing customer data, complying with data protection regulations. This allows the memory sticks to be completed with a personalized design and content. Festo components do the physical work. Production begins with the entry of a QR code by the customer, read by SBSI sensors. EXCT gantries do the pick-and-place via their dynamic CMMT-AS servo drives and EMMT-AS servo motors. Rotation functions are carried out by ERMH electric rotary drives. The process is completed with the personalization of the USB stick. This involves holding the workpiece, turning, and carefully positioning the cap and press-fitting delicate parts using EPCO cylinders and ERMO rotary drives. By leveraging industry-standard networks such as EtherCAT, OPC-UA, IO Link and MQTT, Festo can create a seamless data stream from individual sensors to remote IO, servo drives, controllers, and the cloud. "This technology-neutral approach has a major impact on energy efficiency and sustainability," adds Dawson. Festo's IoT gateway securely connects the machine to the cloud so operators can retrieve production and diagnostic data.
Product size doesn't matter
"It doesn't matter if the product weighs a few grams or 100 kg – being a technology-neutral company, Festo has the product range to do this," says Dawson.