Cosen Saws Unveils Cutting-Edge Products and Exciting Booth Experience at FABTECH 2023
Cosen Saws will have new cutting solutions on display at FABTECH 2023
August 21, 2023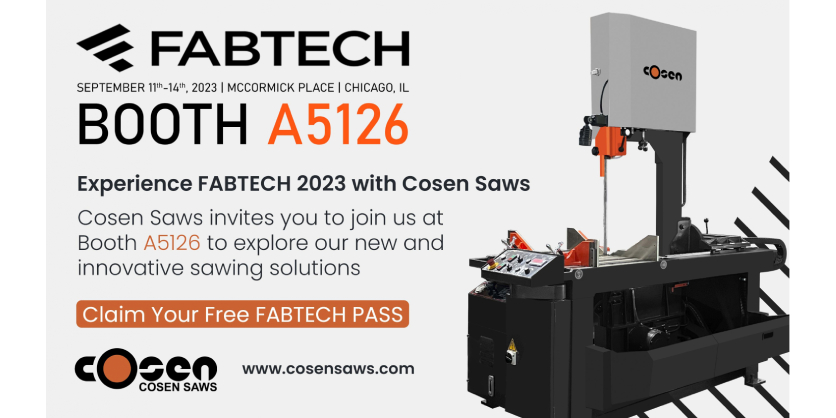 Cosen Saws, a global leader in the manufacturing of premium industrial cutting solutions, will be exhibiting at FABTECH 2023. The event will take place from September 11th to 14th, 2023 at McCormick Place in Chicago, IL. Cosen Saws will showcase its industrial metal cutting band saws at Booth A5126.
Visit bit.ly/cosensaws to get your free FABTECH pass from Cosen Saws
Attendees of FABTECH 2023 can expect an unparalleled experience at the Cosen Saws booth, where they will have the opportunity to explore an impressive array of advanced cutting solutions designed to optimize production processes, increase efficiency, and deliver superior performance. Highlighting the product lineup at FABTECH 2023, Cosen Saws will showcase new and original band saws including the NC-510MG, V-1822, G320, and more! Read about some of the saws we will have on display:
NC-510MG – Automatic Horizontal Scissor Style, Mitering Band Saw
Capacity: 13″ x 20″
The NC-510MG is a high production, fully programmable miter cutting band saw. This saw also includes the ability to program mitering. It is a heavy duty machine that fits the needs of any manufacturing environment with its full capacity bundle clamps as a standard feature.
V-1822 – Manual Vertical Tilt-Frame Band Saw
Capacity: 18″ x 22″
With the growing popularity of vertical saw design, Cosen's V-1822 takes the renown tilt frame-design and applies to a reliably constructed yet small footprint. The manual saw design allows you to control the cutting angle up to 60° in both directions.
G320 – Fully Automatic Horizontal Dual Column Band Saw
Capacity: 12.8″ x 15″
Considered the premier saw of Cosen, the G320 is a combination of rigidity, state of the art software, technology, and affordability. The saw utilizes a true stainless steel dual column design and is perfect for cutting in high production settings.
SH-500M – Semi-Automatic Horizontal Scissor Style Mitering Band Saw
Capacity: 11″ x 19.7″
The SH-500M is the most popular semi-automatic machine offered by Cosen. This machine can miter cut up to 60°. Whether cutting single or multiple pieces, this saw is able to meet the diverse needs of any job shop with its relatively small footprint.
MH-1018JA – Manual Horizontal Scissor Style Band Saw
Capacity: 9″ x 16.5″
The MH-1018JA is a new update on the foundational machine that has been manufactured by Cosen for over thirty years. For the shop that has a variety of multiple users and needs to cut a variety of structural or solid materials, it is the perfect manual machine. Its solid construction ensures many years of reliability and a high level of accuracy.
SH-350DM – Semi-Automatic Horizontal Scissor Style, Dual Mitering Band Saw
Capacity: 7.9″ x 13.7″
The SH-350DM comes equipped with a manual vise and adjustable hydraulic down feed. With mitering up to 60° in one direction and 45° in the other direction, it provides a versatile cutting solution for any machine or maintenance shop cutting square, round, and rectangular solids.
Visitors to the Cosen Saws booth will have the opportunity to interact with these machines and Cosen's team of experts, who will be available to provide in-depth product demonstrations, answer questions, and discuss specific cutting needs. Additionally, Cosen Saws will be organizing live cutting demonstrations, showcasing the speed, precision, and reliability of the saws firsthand.
More Information
Don't miss the opportunity to discover the ideal cutting solution for your application at FABTECH 2023. Visit Cosen Saws at Booth A5126 and explore the latest advancements in industrial cutting solutions. Visit bit.ly/cosensaws to register for a free pass from Cosen Saws. To schedule a meeting with our team or request additional information, please contact info@cosensaws.com or call us at 704-943-1030.
Related Product
Cosen Saws, a global leader in industrial cutting solutions, is pleased to present its lineup of vertical saws, which have been serving customers with exceptional cutting solutions for years. The three vertical band saw models – Manual, Semi-Automatic, and Fully Automatic – continue to provide unmatched precision, efficiency, and convenience. These well-established saws have proven to be advantageous for industrial professionals, accommodating a wide range of cutting requirements, from small-scale operations to large-scale manufacturing facilities.