Three Ways to Pick Up a Pallet Using a Mobile Robot by Omron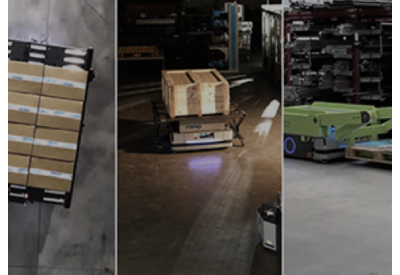 April 11, 2022
Heavy-duty autonomous mobile robots (AMRs) like the Omron HD-1500 are quickly becoming a gold standard for automating pallet transport in warehouses and distribution centres. Capable of moving payloads through dynamic and peopled environments using onboard mapping software, AMRs provide the ultimate in flexibility and scalability.
When logistics facilities start considering an AMR solution, a common question that arises is how to get the pallets onto robots. It turns out there are three methods for doing this, and each has its own advantages relative to the constrains of a particular warehouse infrastructure. In this article, Omon looks at each of these in turn.
Method one: Conveying pallets onto the robots
A lot of conventional warehouses are using conveyors throughout the facility. Autonomous Mobile Robots (AMRs) with conveyor tops can be easily integrated into existing infrastructure without significant changes, thereby replacing conveyor system distance and adding modular flexibility.
Additionally, the wireless communication between the two conveyors would allow the AMR to engage with the conveyor safely and smoothly. Rollers atop the robot can match their speed to that of the fixed conveyors to smoothly accept pallets.
The system will let the AMR know when it's time to depart from the conveyor and carry the pallet to its destination. Since items sent down a conveyor would be transferred immediately to an AMR, this method would achieve a complete warehouse management system (WMS) optimizing traceability.
Method two: Lifting the pallets via a P&D stand
A transfer station, or pick-and-drop (P&D) stand, can be used to deliver a pallet to an AMR. The pallet sits atop the stand while the robot settles in underneath and lifts it up. For the method to work well, the warehouse must designate fixed spots for each stand so AMR mapping and task design can be repeated.
This solution can be quite cost-effective in comparison to the conveyor solution because it is a static solution. The image below features a solution developed by Omron Certified System Integrator partner RAMP Inc. While P&D stands are traditionally static, for this application the customer chose to have a mobile transfer station. Here is a closer look at the RAMP solution.
Method three: Picking pallets up with a robot-attached forklift
For most warehouses, pallets await shipping at a buffer area where forklifts are used to move them directly from one place to another. Labor shortage remains a significant issue for these types of facilities due to reliance on forklift operators.
Omron's system integrator partner Martin Systems (located in Nagold, Germany) created an innovative, first-to-market solution where an automatic forklift rests on top of a mobile robot, ready to fold down and lift a pallet when needed. Safety scanners ensure that the robot will move safely throughout the facility regardless of the payload's height and weight.
As with the P&D stand, it's important to have designated locations for pick-up and drop-off.
Making the most of pallet handling with fleet management
Omron's AMR technology can adapt to any of the above methods for pallet pick-up and drop-off, and they can be implemented with a mobile fleet as well. Using a coordinated fleet of AMRs can help you flexibly accommodate a variety of pallet sizes.
Our fleet management system allows you to manage a fleet of mixed payloads of mobile robots and allows for easy adjustment of infrastructure changes. Whatever your needs, we can work with your system integrator to make an AMR solution function smoothly.
{videobox}q1nokEUHTXo{/videobox}
Interested in learning more about AMR options for pallet handling? Check out Omron's page on robotic solutions for logistics applications by clicking here