Everything You Need to Know About Robots-as-a-Service (RaaS) by Automate
March 23, 2023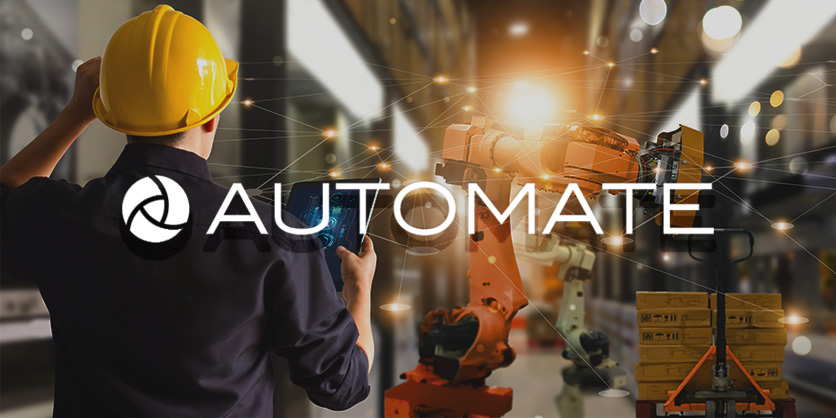 The pressure to automate has never been stronger. Even though barriers to entry have lessened in recent years, figuring out where and how to start can still feel daunting. So it's no surprise that recent years have seen a sharp increase in Robots-as-a-Service (RaaS). In fact, ABI Research predicted that there will be 1.3 million RaaS installations by 2026.
What Is Robots-as-a-Service (RaaS)?
Similar to the more well known Software-as-a-Service (SaaS) concept, RaaS solutions allow businesses to leverage automation equipment and related software on a pay-as-you-go or subscription basis. This arrangement allows users to pick and choose the automation applications they need, when they need them; change or upgrade as requirements change; and leverage robotics without the need for the expensive infrastructure of traditional setups.
Requirements to integrate Robots-as-a-Service (RaaS)
The beauty of Robots-as-a-Service is that it doesn't require the same infrastructure and investment (time, resources and money) as a traditional automation implementation. Organizations interested in RaaS will have some legwork to do in terms of identifying objectives, choosing a partner and working closely with them to implement the right solution. Businesses should look for RaaS providers that have experience in their industry and a proven track record of implementing solutions that achieve objectives similar to their own.
Benefits of Robots-as-a-Service (RaaS)
In a nutshell, Robots-asa-Service solutions lower barriers to adoption for those who could benefit from automation. They allow businesses to take advantage of the general benefits of automation (increased productivity, quality, safety, etc.) while also enjoying the benefits unique to the subscription nature or RaaS:
Increased Productivity and Efficiency
Perhaps the most well known benefit of automation is increased productivity and efficiency. From robotic assembly to speed production to AMRs that do the heavy lifting (literally and figuratively) to free up valuable employee resources, efficiency is part and parcel of any automation investment. When it comes to RaaS, the productivity gains are accelerated because businesses can significantly speed initial implementation while reducing upfront costs.
Reduced Costs
Businesses that are smart about their automation implementation will see long-term cost savings. The million-dollar question is, how long does it take to see the ROI? The answer varies widely depending on a variety of factors, but one thing is for sure: RaaS implementations incur far less upfront costs, and lead to seeing returns significantly earlier than owned solutions. Plus, they can more easily make adjustments over time to optimize their ultimate cost savings. Newer approaches to RaaS include charging users per unit of work rather than per robot, which can increase ROI even more; some companies are flexible and offer both options.
Improved Quality and Accuracy
Automation is helping boost quality in a number of industries. In manufacturing, robotics reduce the chance of human error on the production line and can help with sophisticated quality control; in warehousing and logistics, automated bin pickers eliminate mistakes; and in consumer-oriented industries like hospitality, foodservice and healthcare, robots can improve the quality and speed of service. Robots-as-a-Service solutions are a great way to test the waters here because the level of commitment is much lower than a large capital investment. For instance, a hospital system might use RaaS to test the use of robots for patient care (perhaps with robots that can physically move patients)—gauging patient acceptance before making a longer-term commitment.
Increased Safety
From drones that act as security guards to robots that take over dangerous jobs, automation is ushering in a new era in industrial safety. These types of applications are a prime candidate for RaaS because they often involve solutions that are relatively easy to adopt and configure: automated forklifts in warehouses; robotic "cleaners" in hospitals to reduce the risk of biohazard exposure; and the aforementioned robotic security guards. None of which require a major overhaul to existing operations.
More Flexibility
Robots-as-a-Service solutions are ideal for businesses looking for flexibility in their automation implementations. First, deployment is faster and easier than traditional implementations (which can take a year or longer to build out). Once an RaaS implementation is in place, it's much easier to change, scale up or scale down based on changing needs. This could be a reaction to a changing market, or even just temporarily scaling up to meet temporarily high demand (as would be the case for the holiday season in a fulfillment center).
Access to Industry Expertise and Innovation
Perhaps one of the most appealing aspects of RaaS for automation newbies is that they get more ongoing support and guidance than is typical with larger, owned automation implementations. In addition to a direct line to the experts, businesses who take advantage of RaaS solutions benefit from the most cutting edge automation technology on the market. That's because RaaS providers are singularly focused on providing the most cutting-edge solutions—so they frequently update and improve technology. RaaS customers won't need to worry about an owned solution that becomes obsolete in 6 months or a year; they can more easily upgrade to the latest and greatest.
Real Life RaaS Stories
If Robots-as-a-Service sounds great in theory, you'll be even more intrigued by some exciting real life examples.
Manufacturer gets up to speed with automation in one week
Rapid Robotics helped adhesive and polymer manufacturer Delphon automate its traditional pad printing process in less than a week, with a $2,100 per month RaaS contract. The manufacturer leveraged the Rapid Machine Operator (RMO) to remove foreign material during the assembly process for parts used to handle semiconductor chips.
Promotional products company cuts production costs by 60%
Automate exhibitor Rios Intelligent Machines helped Hit Promotional Products implement "lights out" robotic solutions for manufacturing and packaging. Robotic workcells (fully deployed in just 60 days) helped decrease order fulfillment time. Millions of packaged products later, the company was able to cut production costs by 60%.
Bots relieve labor shortages and fluctuating demand
Locus Robotics was an ideal partner for 3PL iForce, because they needed automation solutions that could be scaled up or down on the fly. They started with Locus AMRs to help pick a single client's products throughout the warehouse for fulfillment, but planned to expand to the entire client roster. "One of the biggest reasons we picked Locus was the scalability and flexibility of the solution," says Neil Lavercombe, Business Planning Manager at iForce. "We needed something that we could scale up quickly, so for example short-term peaks at Christmas; or we could scale up long-term, so for example, ever-increasing client volumes."

How To Choose a RaaS Provider
The proof is in the pudding, as they say, and reputable Robots-as-a-Service providers should be able to show you their recipe. Ask for case studies that relate to your industry and needs, as well as expected cost savings and other proof points that can help you choose the right implementation. The good news is, most RaaS solutions aren't just generic and off-the-shelf—your provider should work with you to develop and deploy a customized automation plan.
You can meet all the players in person—and see their tech in action—at Automate, North America's largest showcase of automation innovation. Register for free and join us May 22–25 in Detroit, Michigan.