Robotiq Screwdriving Cell Works Around the Clock With Safety & Efficiency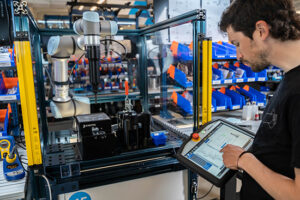 Aug 6, 2021
Advanced Motion & Controls Ltd. supplies automation solutions by Robotiq, especially robotic grippers. Now, the manufacturer has launched the Screwdriving Solution, a new robotic screwdriving cell designed to elevate any workforce. With this unique system, employees are now free to work on higher-value applications and let the Screwdriving Solution take over.
A key advantage of this new tool from Robotiq is fast production changeovers. Users can reconfigure the machine for alternate production within five minutes.
Preventing injury to workers
Another benefit is consistent screwdriving around the clock, which eliminates the risk of product recall and downtime on assembly lines, thereby boosting throughput. A business can add the Screwdriving Solution to a collaborative robot, or "cobot", to deploy and master a robotic screwdriving task – with no robotics experience necessary. Automating screwdriving jobs this way also prevents injury to workers and redirects them to more fulfilling tasks.
The Robotiq Screwdriving Solution is a reliable and efficient system that simplifies programming, as it automates the force-sensing capabilities and the communication between the screwdriver, screw feeder, robot, and vacuum technology. This screwdriving cell from Advanced Motion & Controls can be set up in only a few minutes. Users can control the screwdriver functions directly from the UR Toolbar to use and test it, while the Pick command automatically detects if a screw is ready to be picked and the space in front of the feeder is clear.
Robotiq offers a special eBook with tips and tricks to help users get started and automate their screwdriving processes successfully. If necessary, the Robotiq team can test the critical elements of the Screwdriving Solution to ensure that it works before the customer commits to a purchase. The system is packaged with the following:
Robotiq Screwdriver SD-100;
Robotiq Screw Feeder SF-300;
Vacuum sleeves kit;
Screwdriver bits kit;
Robotiq Force Copilot licence dongle; and
Robotiq Screwdriving URCap application software.
For more information, visit Advanced Motions & Controls Ltd.