Everything You Need to Know About the AIoT – An Interview with the AIOT Corporate Influencer and Data Analyst of Bosch Rexroth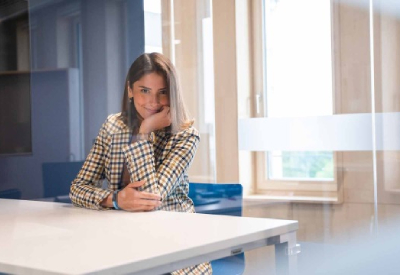 June 17, 2022
By Krystie Johnston
The world is changing. Every day. In many ways. The fourth industrial revolution, Industry 4.0, has fundamentally changed the way we live, work, and relate to our world. Three terms from Industry 4.0 warrant further attention: the Internet of Things (IoT), Artificial Intelligence (AI), and Artificial Intelligence of Things (AIoT). But what do they mean, and perhaps, more importantly, what do they mean to industry?
Mechatronic Canada had the opportunity to ask Ozge Karadag, the AIoT Corporate Influencer and Data Analyst at Bosch Rexroth about the AIoT. This article helps to demystify these concepts and explores their applications in use today.
"When AI is added to the Internet of Things it means devices can analyze data, make decisions and act on that data. AIoT is the brain and the body of digital transformation." – Ozge Karadag
Generally speaking, IoT is essentially sensors and actuators embedded in physical objects, linked through wired and wireless networks, often using the same Internet Protocol (IP) that connects the Internet. And AI is machine-driven intelligent behaviour that involves the ability to acquire and apply knowledge. It consists of analytics (i.e., learning) and outcomes (i.e., actions, decisions, or predictions).
The combination of AI into IoT systems can help ensure that the huge amounts of data gathered from the IoT are used effectively. This means machines can take on tasks that previously were the sole domain of people – and in so doing will make factories far more productive and efficient. Ozge says,
"AI can translate the vast quantities of data into actionable insights, make proactive decisions and enable automated machines and systems to become more sophisticated in the way they behave. In essence, the AIoT shifts the huge data volume into data value. It enables the data to be used more wisely and creates customized real time solutions."
Naturally, there is skepticism involved with the autonomy of a machine. How do you know if it is doing what it is supposed to? Will it always do what it is programmed to do, or will it take autonomy too far? Is it safe?
There is no doubt that technology and machines will play an important part in automated production, but people will still be at the heart of the factory and control must remain firmly in human hands. AIoT must remain complimentary to the human workforce, working alongside people and taking on the tasks that they find difficult, such as calculating complex data. These tasks are already occurring in many facilities around the world.
Some examples of AIoT solutions at Bosch include:
•Hydraulics Commissioning Wizards: Guides technicians through the commissioning process and suggest suitable parameters. It helps people to solve complex problems by coming up with recommendations from a knowledge base.
•ctrlX Configurator: An expert system that helps engineers design and configure complete system solutions in the optimum manner.
•APAS Inspector: A production assistant for automatic visual inspection. Thanks to its learning image processing software, it can be "retrained" at any time and even operators with no specific knowledge of image processing can optimize and adjust the checking parameters.
•Smart Item Picking System Solution: With the help of AI, the software recognizes the products to be grasped and works out how to pick them up smoothly.
•CytroConnect Predict: Carries out a predictive analysis of a hydraulic system based on self-learning algorithms. The system is equipped with sensors from which data is collected and evaluated with the help of artificial intelligence. Issues can be detected before they result in a breakdown, maximizing the availability of the system.
There is great potential for people and machines to collaborate and work together, and opportunities exist for businesses and industries. Bosch Rexroth is a company that is forging ahead with integrated and comprehensive products and solutions to maximize the benefits of this technological revolution with offerings to their customers that utilize these advances to make their tasks and lives easier, safer, and more efficient. As Ozge says,
"AIoT has significant potential when it comes to automating tasks which were previously carried out by humans and can help to increase the productivity of machines and factories. And for that they even don't need huge investments for the set-up. They can start with concentrating on a specific area such as predictive maintenance and corrective measures, to increase efficiency and reduce unplanned downtime."
Thank you Ozge, for sharing your knowledge about the AIoT, and for highlighting some practical examples where the businesses can benefit from these advances in the industrial internet and machine intelligence.