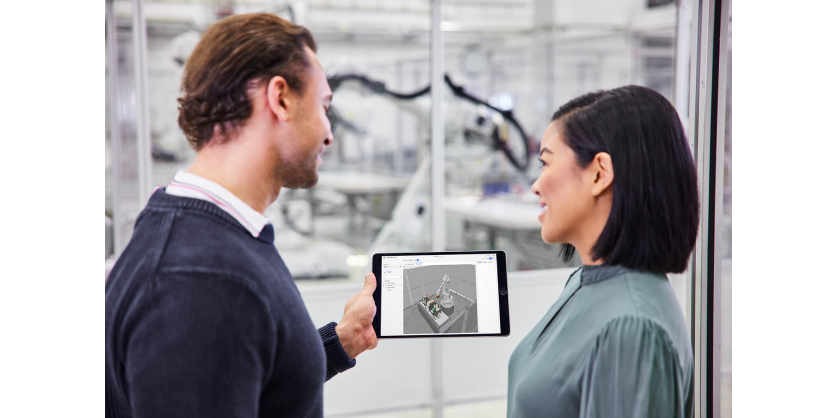 ABB RobotStudio® Event – Pushing the Boundaries of Robotics Programming
December 9, 2022
By Krystie Johnston
It was a big day for ABB as they welcomed viewers from all over the world to their biggest software launch event of the year. Live from Sweden on LinkedIn, they presented the next step for their RobotStudio®: expansion to the Cloud. This latest development promises to transform robot programming and revolutionize businesses across the globe by bringing collaboration, simplicity, transparency, and best-in-class technology to one powerful online tool.
Tens of thousands of people use RobotStudio® for all phases of the robotic cell – from designing and planning to building and commissioning and finally to maintaining and optimizing. ABB has harnessed their decades of experience installing robot systems around the world to offer a product that is game-changing for the way we work today.
ABB has a broad portfolio of automation solutions. Perhaps best known for their industrial robots, they also have collaborative robots, autonomous robots and an entire partner ecosystem that provides PLCs, sensors, grippers, and other components that add to the top of the robotic cell.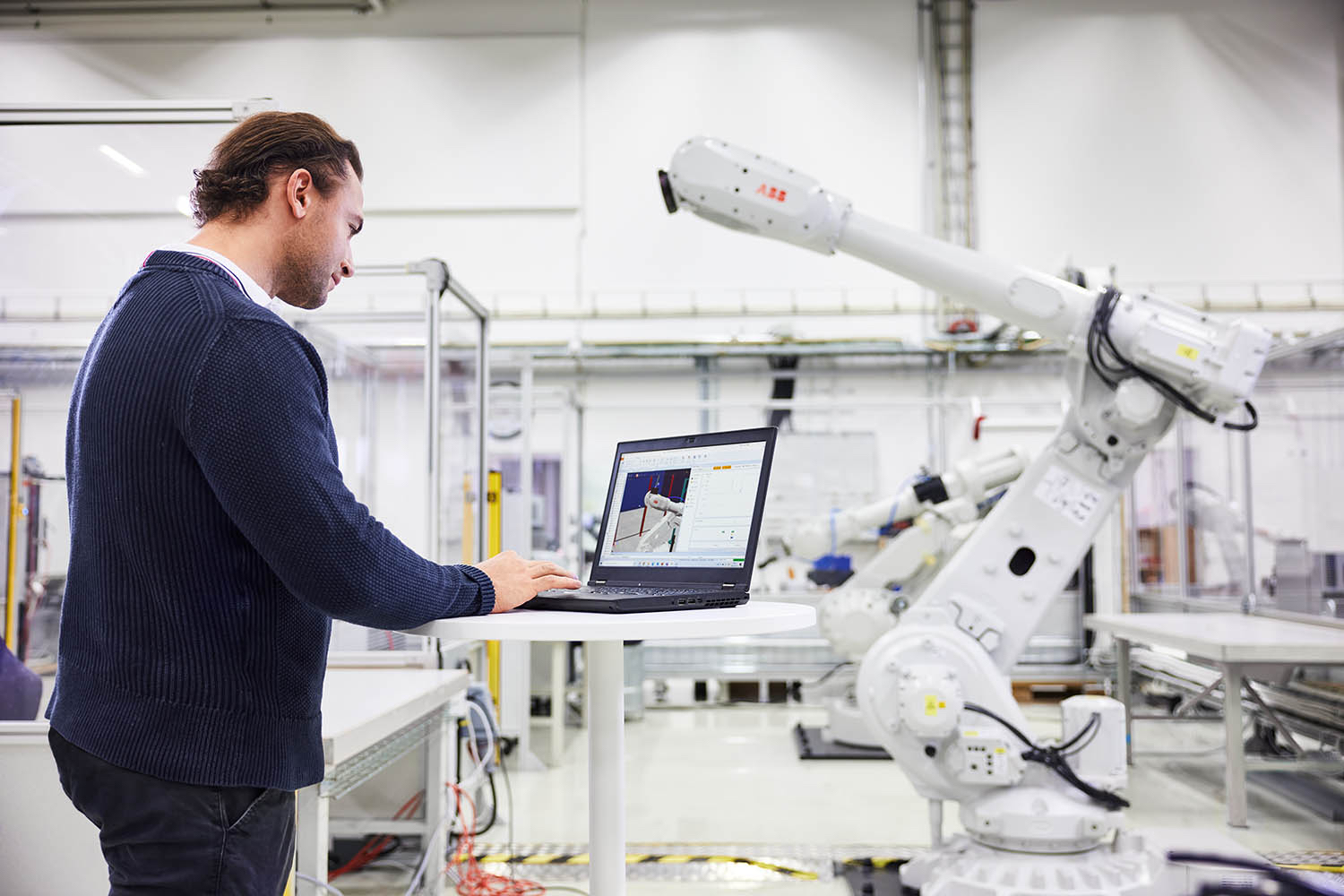 Additionally, they have more than 70 software options that ensure they have solutions for all the use cases that customers pass on to them. Passionate about creating success, ABB has used their experience to continuously improve their RobotStudio® system to make it an industry-leading software for robot programming and simulation.
Elevating RobotStudio® to the Cloud will allow users to collaborate more easily with each other at a new level; in real-time and with transparency. From the beginning, ABB worked with their customers to develop RobotStudio® so they can succeed in business by saving time and money on testing and programming robotic solutions. As Boris Fiedler, Head of Digital ABB Robotics says,
"We worked extremely closely with our best system integrators and the most advanced customers in the simulation space, to understand their needs, and to develop the features that are needed. What we learned is, first, great projects only materialize from great collaboration, so therefore we need to introduce new ways of working. And the second element, which all our customers have told us is very valuable to them, is to see what changes have been done when and by whom, which we are introducing thanks to our traceability component."

Boris Fiedler, Head of Digital ABB Robotics
The benefits of elevating RobotStudio® to the Cloud:
1. Sync and share with other project members in real time
2. Simplified interface and intuitive navigation empowers all levels of users
3. Keep track of difference program versions easily for full transparency with version control
4. Best-in-class virtual robot controller technology
5. Protected by enterprise-grade security
Watch this video for an overview of RobotStudio®
Cloud technology enables people to collaborate on automation projects in real time from any device, anywhere around the world. Prior to this technology, someone would have to travel to the factory and physically touch the robot to commission it or make programming changes. It is truly groundbreaking that now the programming and virtual commissioning projects can be accessed remotely, and edited in real time – by people who could be anywhere in the world – with a simple invite to the project.
Elevating RobotStudio® to the Cloud will make collaboration easier and keep everyone in the loop on changes to a project. Built-in version control ensures transparency and traceability when multiple users are working on the same project. Simplicity is also built-in with an intuitive interface and simple navigation that will empower users with little robotic experience to feel confident using the software, while at the same time supporting more advanced users in their daily work. Security is also covered, and users own their own data, therefore no third-party hand can access it – unless of course, they share it.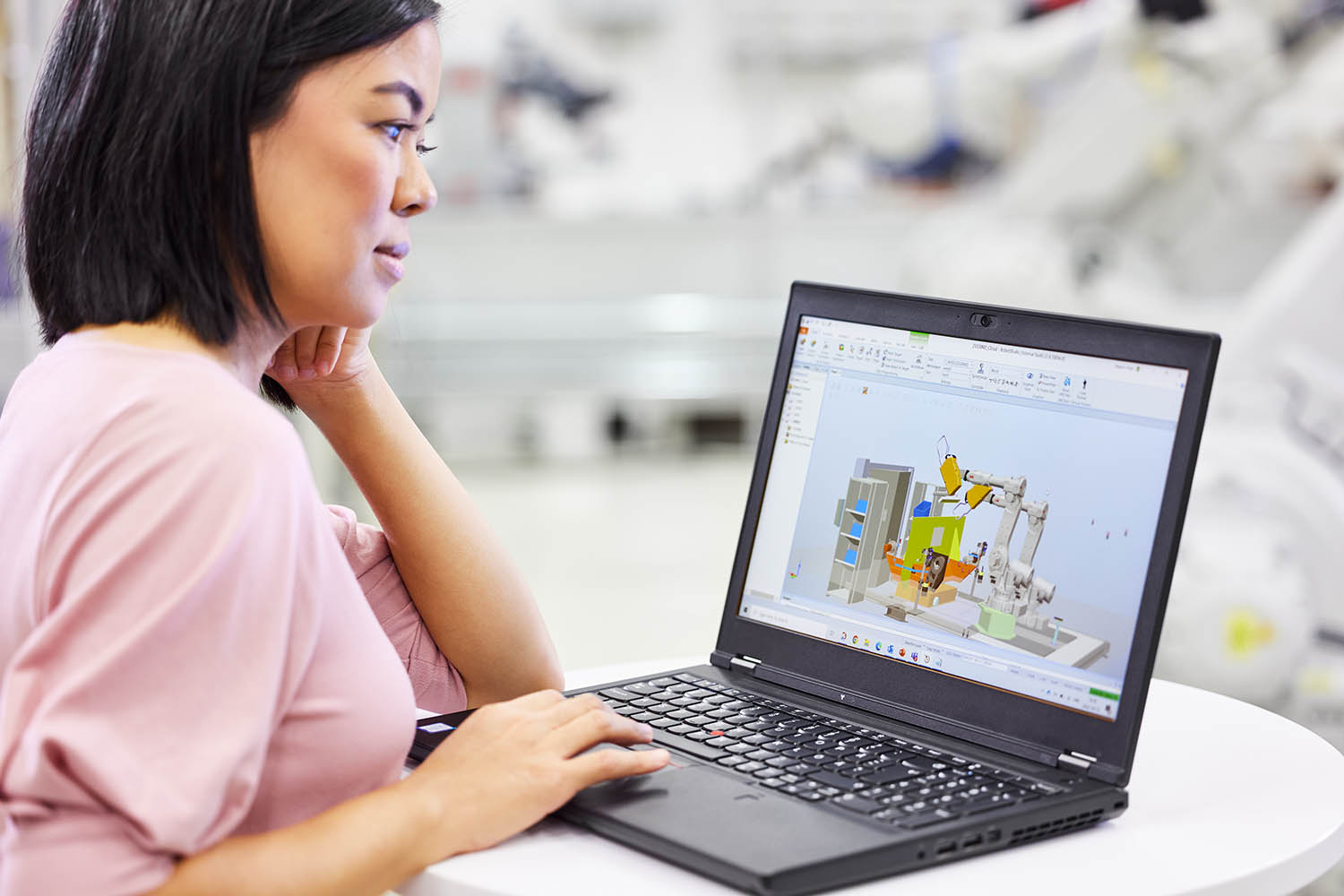 Collaboration is not without its challenges. Perhaps one of the biggest challenges when working with multiple pieces of equipment and devices and software is knowing what was done to each component, who did it, and why. RobotStudio® Cloud resolves this challenge with its version control system, using similar principals as software development employs. Magnus Seger, Product Manager Simulation Software at ABB Robotics explains,
"Transparency is one of the most challenging things in the practice system. To keep track of all these versions and understand what is executed down at the robot controller is very difficult. RobotStudio® Cloud comes with version control system that is built-in so you can keep track of all these versions, and it can allow multiple users to work on multiple versions without affecting the real file. You can see all these versions in the tree, and you can go back to the previous changes if needed. With software development this is standard, so we have taken those principals and moved them into automation. We simplified it. I would say this functionality will be groundbreaking for all our users in the next few years."

Magnus Seger, Product Manager Simulation Software at ABB Robotics
A demonstration of the software by Adrien de la Tour, Head of Portfolio Software Solutions at ABB Robotics and Seger helped put it all into perspective. Together, they simulated a typical programming project where a robot was needed to weld something. The example looked at their collaboration to create a tool path as one simple action, and a command to speed up the process as the other.
Within a few moments they were able to complete these tasks without any special tools or connections to the robot or one another's devices. The demonstration shows how the time required to complete commissioning or programming can be a fraction of what it would take traditionally.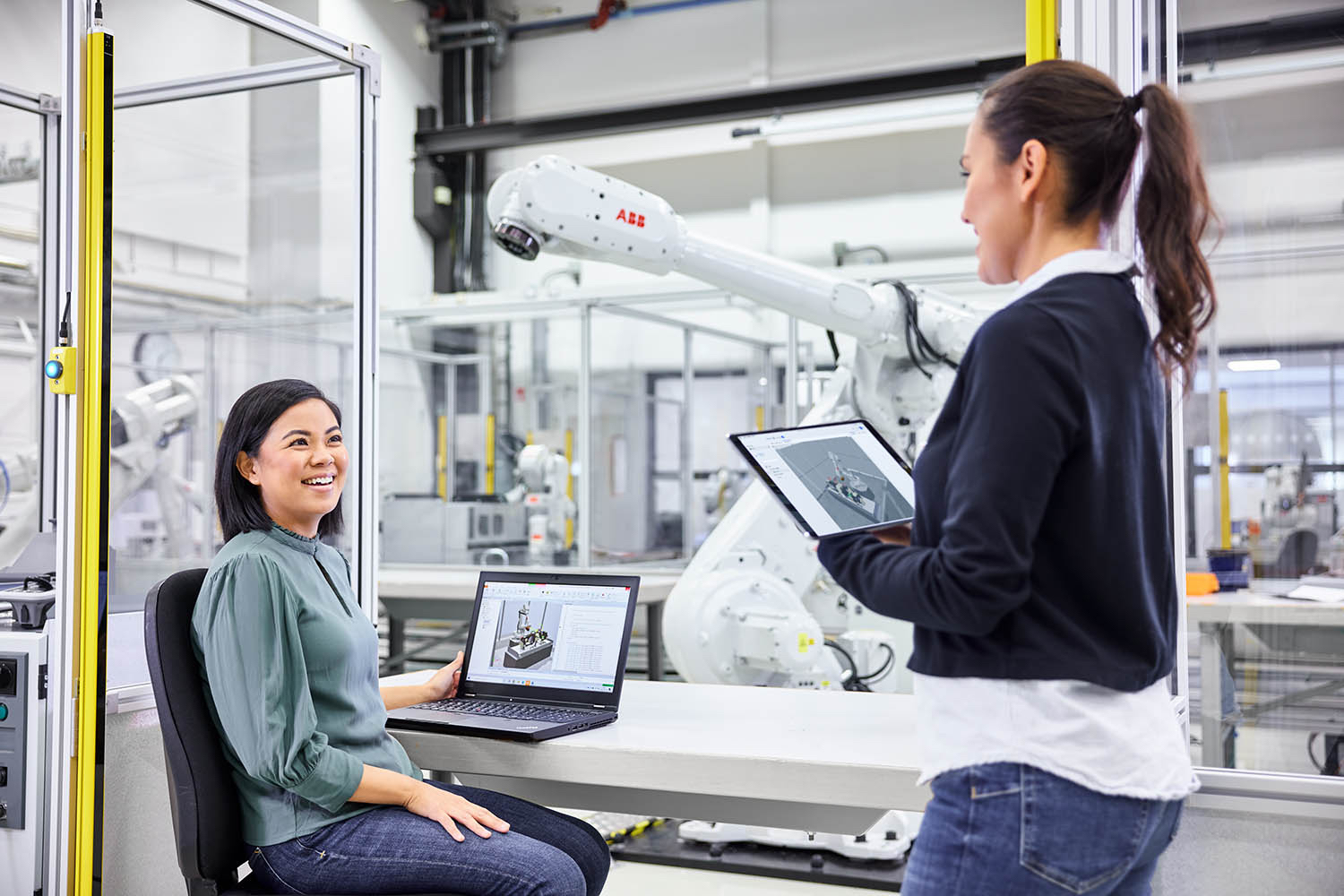 As de la Tour points out, "We have a lot of experience over the past two decades working with simulation and virtual commissioning, and we know that, particularly for larger projects, operations can take weeks or months to set up. If they are simulated, they can be brought down to just a few days of disruption on a production line, which is a huge time saving benefit for the companies that are doing that. If you go into fine detail on the simulation, we can even go to, by the time we reach start of production, a project with zero downtime. This is completely unheard of on traditional projects with robotics and automation.

So with the collaboration and transparency tools that were demonstrated today, we are adding on to this whole value that we have in RobotStudio, so we are expanding that offering. But bear in mind something that was at the beginning of the demonstration, which can save a lot of time too is, there is no need to program paths for robots point by point which is something that can take hours, you can do that in seconds and RobotStudio, which will generate an automatic path for you. It is quite groundbreaking, what we are doing here and we really believe in this path that is being started."

Adrien de la Tour, Head of Portfolio Software Solutions at ABB Robotics
Customer testimonial
"At Lincoln Electric, we use RobotStudio® on a daily basis – from engineering to commissioning. On a project with average complexity RobotStudio allows us to cut our development and commissioning time in half. On a larger, complex, offline programming project, we reduce real robot downtime by 90% in some cases when compared to a pendant-only approach. You can be up and running with RobotStudio® extremely quickly – because we were working on the application in RobotStudio ahead of time, we had our software running on our new GoFa cobot within 45 minutes of receiving and powering on."

Matt Burgun, Application Engineer, Lincoln Electric Automaton
To learn more about RobotStudio® Cloud, download the White Paper or click here
Related Story
ABB RobotStudio® Takes to The Cloud Enabling Real-Time Collaboration