Parker and Cummins Partner to Deliver Next Generation of IoT-Enabled Connected Services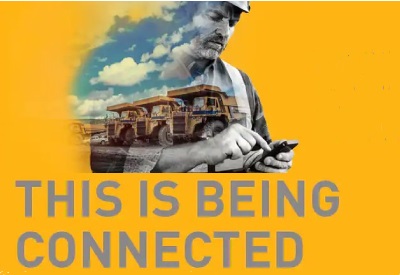 March 8, 2022
The Electronic Motion and Controls Division of Parker Hannifin Corporation, a global leader in motion and control technologies, has partnered with Cummins Inc. to integrate its connected engine solutions with Parker's Mobile IoT platform. This strategic partnership enables customers to access diagnostic messages and receive real-time alerts for Cummins engines and Parker components in a single dashboard.
"Telematics has emerged as a key enabler to improve operational efficiency of machines at construction sites, ports, distribution centers and farms. Many of these environments have mixed fleets, and managers need a solution that is compatible across their machinery," said Jeremy Harsin, Cummins Global Off-Highway Business Director. "At Cummins, we are working to integrate our digital capabilities with industry leaders to support our customer needs in a flexible manner."
In phase one, Parker has integrated diagnostics capability for Cummins engines, which helps improve operating performance, boost asset utilization and uptime, increase efficiency and reduce costs.
The infographic below demonstrates the end-to-end transmission of data, from the smart component detection all the way through to the actionable insights provided to OEMs and fleet managers.

Cummins Connected Diagnostics wirelessly connects engines to enable continuous monitoring and diagnosis of system faults. Site managers can make informed decisions on whether to stop machine operation or continue to the end of the shift by understanding the suggested root causes. They can better understand how long they have before a critical failure is likely. This means that uptime can be maximized, with any potential fixes completed more quickly. With the information provided in Connected Diagnostics, the correct parts, tools and technician can be made available to resolve issues in an efficient manner.
Parker Mobile IoT is the next-generation equipment and hydraulic monitoring cloud-based solution specifically designed to provide diagnostic data, monitoring and performance control capabilities. Mobile IoT makes it easy for off-road equipment OEMs and fleet managers to collect and analyze data to identify usage trends and field-based problems with unparalleled intellectual design and operational insight. Parker is taking telematics to the next level with remote diagnostics and controls programming.
Together, Parker and Cummins will enable advanced diagnostics and troubleshooting for major components on mobile equipment to come through a single interface. The intuitive solution offers actionable insights to enable component care, prevent damage and enable quick support.
"This strategic partnership with Cummins enables Parker to serve our customers from a whole machine view of diagnostics rather than having them interface with multiple component manufacturers," said Anne Marie Johlie, Head of Connected Products and IoT at Parker's Electronic Motion and Controls Division. "This simplifies machine status and troubleshooting, reduces downtime and optimizes machine availability."
Commenting on the value of this solution to customers, Stacey McCully, Direct Territory Manager of Taylor Machine Works, a leader in industrial lift trucks, added, "This solution will enhance our diagnostic and troubleshooting capabilities to avoid unnecessary downtime. Repair technicians and support centers will have visibility into potential failures ahead of service or even before breakdowns, and prepare for resources and parts before the machine arrives for service or needing service in the field. Owners will now have visibility into machine symptoms and dramatically change the way preventive maintenance is scheduled, maximizing fleet availability, increasing productivity and overall fleet operational performance."
Parker continues to partner with industry leaders to expand their portfolio of digital solutions for customers. Learn more about the Mobile IoT Solutions at www.parker.com/iot/mobile