Ontario Supporting Manufacturing Jobs in North Bay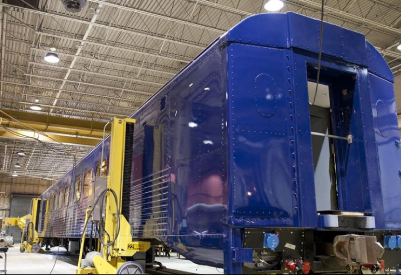 April 8, 2022
The Ontario government is providing $109 million to refurbish 56 GO Transit bi-level rail coaches at the Ontario Northland Remanufacturing and Repair Centre in North Bay. This investment is part of the government's plan to expand service across the GO rail network and support economic development and job creation in the North.
"Under Premier Ford's leadership, we're supporting good paying manufacturing jobs in Northern Ontario while improving service across the GO rail network," said Caroline Mulroney, Minister of Transportation. "Our government is driving economic growth and prosperity in all corners of our province to ensure that Ontario remains the best place to live, work and raise a family."
The refurbishment of the bi-level coaches will begin at the end of May and support approximately 100 manufacturing jobs. The scope of work includes new seating and upgrades to washrooms, electrical components, heating, ventilation and air conditioning (HVAC), and door systems.
"Today's investment is an important advancement in our government's plan to strengthen economic growth and opportunities in the North," said Vic Fedeli, Minister of Economic Development, Job Creation, and Trade, and MPP for Nipissing. "We're taking action to build a stronger, more resilient manufacturing sector in Northern Ontario that will support high-quality, good-paying jobs."
Last November, the province also announced an investment of $171 million to refurbish 94 GO Transit bi-level rail coaches at the Alstom plant in Thunder Bay.
Quick Facts
•The $109 million investment for the refurbishment of 56 GO bi-level passenger rail coaches is in addition to the existing contract for the refurbishment of 15 cab cars that was signed between Metrolinx and the Ontario Northland in 2019.
•The refurbishment work for the new contract will start on May 30, 2022, and is anticipated to be complete by late September 2025.
Quotes
"Congratulations to the Ontario government on today's announcement. This contract will support high-quality, good-paying jobs in North Bay and help to create the right conditions for economic growth in the North."
– Al McDonald
Mayor of North Bay
"This contract will provide job stability for our employees while contributing to economic growth in Northern Ontario. Our continued partnership with Metrolinx, specifically for refurbishment projects, confirms our exceptional skillset and reputation for high-quality remanufacturing services right here in North Bay. We are proud of the impact of this contract to the region as it will create long-term jobs as well as drive business to over 30 local suppliers."
– Corina Moore
President and Chief Executive Officer of Ontario Northland
"This vehicle refurbishment agreement is an important step in supporting the growth of our future rail capacity. We're proud to make this progress, working with Ontario Northland and the communities of Northern Ontario."
– Phil Verster
President and Chief Executive Officer of Metrolinx