Ontario Launches Skilled Trades Career Fairs for Students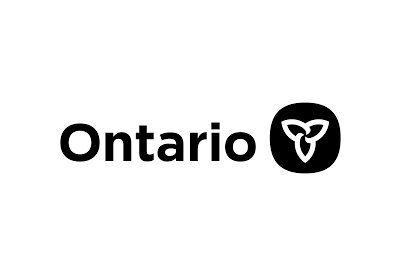 October 18, 2022
Province unveils new initiatives to tackle labour shortages and modernize skilled trades
The Ontario government is working for workers by launching career fairs this fall to prepare the next generation of young people for rewarding and well-paying jobs in the skilled trades. These fairs address labour shortages in high-demand sectors and help deliver the province's ambitious infrastructure plans, including building 1.5 million homes by 2031.
"Ontario is facing the largest labour shortage in a generation, which means when you have a job in the skilled trades, you have a job for life," said Monte McNaughton, Minister of Labour, Immigration, Training and Skills Development. "Our government is launching these annual career fairs so more students and parents know university isn't the only path to success. We will continue to make historic investments to attract more young people to rewarding, lucrative and purpose-driven careers in the trades, and ensure employers can find the skilled workers they need to grow their businesses and our economy."
Level Up! is a series of dynamic, multi-day career fairs highlighting the 144 different skilled trades. For the first time, students in grades 7 to 12 will have the opportunity to learn about these trades through interactive exhibitions and hands-on activities, while hearing directly from tradespeople and local employers about these life-changing careers. The first career fair kicks off October 25 to 27 in Mississauga, with subsequent fairs planned in London, Sudbury, Ottawa and Thunder Bay.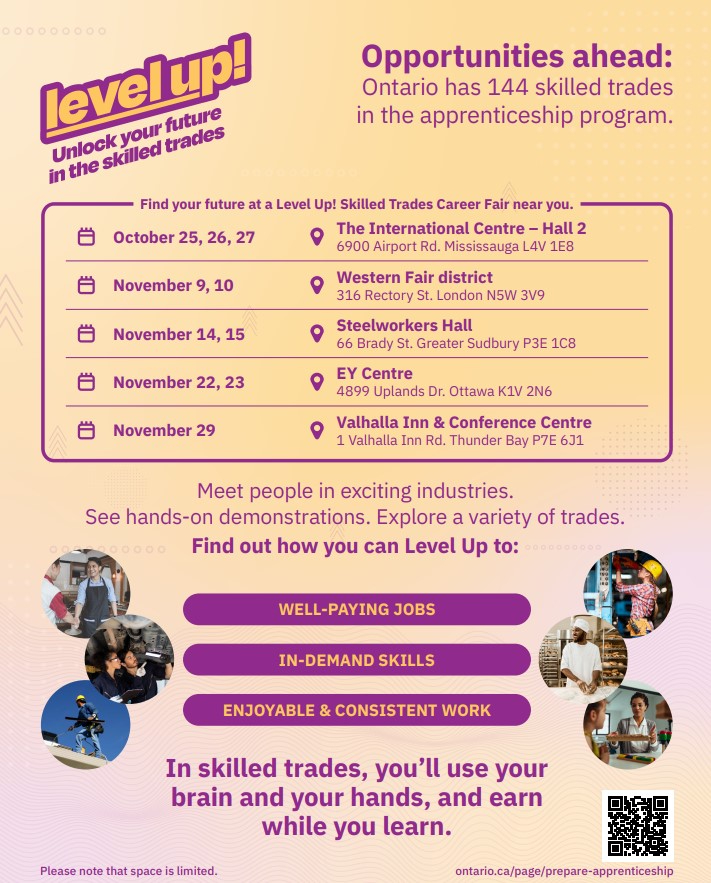 "We are on a mission to fill the skills gap by better connecting and ultimately inspiring Ontario students to enter these good-paying jobs that are in demand. We are expanding career fairs and enhancing pathways to apprenticeship throughout the curriculum," said Stephen Lecce, Minister of Education. "By placing a real emphasis on life and job skills like coding, financial literacy and budgeting, we are ensuring Ontario students graduate with a competitive advantage and land good-paying jobs."
Additionally, the government is bringing the province's apprenticeship system into the 21st century. Skilled Trades Ontario (STO) — the provincial agency leading the transition to a simplified, modernized skilled trades and apprenticeship system — is introducing digital logbooks that allow apprentices to electronically track their progress, instead of carrying paper books. This new online solution coincides with the launch of the agency's official logo and branding, now on their website.
"At Skilled Trades Ontario, our job is to make it easier for apprentices and trades professionals to reach their goals and get the word out to more people about career opportunities right here in Ontario," said Melissa Young, CEO and Registrar, Skilled Trades Ontario. "Digital logbooks are part of our plan to revolutionize Ontario's apprenticeship system, while our new brand celebrates there is a skilled trade out there for every passion."
These initiatives build on the government's ongoing efforts to attract, support, and protect workers, making Ontario the top place in the world to work, live and raise a family.
Quick Facts:
•There are currently more than 360,000 jobs going unfilled across the province, while one in five new job openings in Ontario are projected to be in the skilled trades by 2025.
•The Level Up! skilled trades career fairs are open to all students, including First Nations schools and all publicly funded school boards. In addition to Mississauga on October 25 to 27, career fairs are taking place in London, November 9 and 10; Sudbury, November 14 and 15; Ottawa, November 22 and 23; and Thunder Bay, November 29.
•Grade 7 to 12 students interested in attending the career fairs are encouraged to contact their school board's Ontario Youth Apprenticeship Program (OYAP) recruiter, a teacher or school guidance counsellor to register.
•A virtual career fair is also on its way for anyone who could not attend in person. More information on the virtual career fair will be provided through the schools in the coming weeks.
•The Ontario Youth Apprenticeship Program (OYAP) now has more than 60 recruiters across 800 schools so students can learn about the skilled trades at a younger age.
•The new digital logbooks are being piloted to new apprentices from 10 trades across motive power, construction, industrial and service sectors.
Quotes:
"The thinking behind STO's attractive new logo including the brand statement, organizational vision, mission and values, is foundational to the modernization of the province's skilled trades and apprenticeship system. The career fairs and digital logbooks also announced today are important first steps toward attracting more people into the trades and supporting their career journeys. They are a sign of exciting things to come in the near future, when we will see dramatic increases in the number of registered apprentices, the number of employer sponsors, a much-improved completion rate and a streamlined and efficient equivalency process. This is great news. Let's all get behind STO!"

– Ian Cunningham
President – Council of Ontario Construction Associations (COCA)
"Today's announcement is another positive step forward by Minister McNaughton to meaningfully address the skills shortage facing the residential construction sector. Career fairs will ensure Ontario's youth know about in-demand careers that exist in the construction of new homes and condos across Ontario. Pairing this announcement with the STO branding release highlights the important role STO will play in improving Ontario's skilled trades and highlighting residential construction careers."

– Andrew Pariser
Vice President – RESCON
"Skilled tradespeople are vitally important to not only our economy but our communities and creating the next generation of skilled tradespeople will not happen overnight. The dedicated and focused work of Skilled Trades Ontario (STO) is critically important in supporting increased access and pathways for people who are interested in exploring opportunities in the trades. By making the pathway to apprenticeship and journeyperson less complex, more people from diverse backgrounds and experiences can enter rewarding careers in the skilled trades."

– Jack Olivera
Business Manager – LiUNA Local 183, LiUNA OPDC
"All the hard work that this Government is putting into building up the Trades is long overdue and does not go unnoticed. People are starting to realize that the Skilled Trades are more than a job, they are a career. The members of UA Local 787 appreciate all the support and look forward to working with this Government to meet the demands of the future labour requirements."

– Andrew Tarr
Business Manager – United Association (UA) Local 787 (HVAC&R)
"Skilled Trades Ontario's new brand and messaging shows this government's commitment to improve awareness of all skilled trades. Now, more than ever, it's critical to introduce the skilled trades to our youth and show them this is a fulfilling and rewarding career path. Today's announcement of the career fairs is a fantastic way to do this, and Landscape Ontario is proud to support this initiative."

– Joe Salemi
Executive Director – Landscape Ontario Horticultural Trades Association
"As with many industries, the labour shortage is severely impacting our ability to grow. Our business relies on many skilled trades, including landscape horticulture technicians, stone masons, carpenters, welders, machine operators, truck drivers and landscape designers. We commend the attention and opportunities these programs provide to attract more workers to our meaningful profession."

– Peter Guinane
CEO and Founder – Oriole Landscaping Ltd.
"I have great hope that the skilled trades initiative in Ontario will encourage new entrants to skilled trades which our industry desperately needs. We have so many well-paid positions to fill as the backend boomers continue to retire. This initiative can provide meaningful careers for young women and men as our economy continues to grow under Premier Ford."

– Tony Fanelli
Executive Director – Construction Labour Relations Association of Ontario (CLRAO)
"It's great to see STO's new branding and approach reflect consultation with the industry. It is one step closer to better promotion of the rewarding careers in the skilled trades, and even more importantly, ensuring a streamlined process and user-friendly hub for new and existing apprentices."

– Raly Chakarova
Executive Director – BOLT Foundation
"I am very pleased to see that positive changes are happening for apprentices throughout Ontario and that Skilled Trades Ontario, (STO), will be at the forefront making this happen. The Canadian Tooling & Machining Association's, (CTMA), member companies sponsor hundreds of apprentices as general machinists, tool & die makers, mould makers, millwrights, industrial electricians and more. It is extremely important for Ontario's future to provide a well-managed, supportive apprenticeship system and we are excited to work with Skills Trades Ontario to make this happen."

– Robert Cattle
Executive Director – Canadian Tooling & Machining Association
"Ontario's 1,100 new car dealers congratulate Skilled Trades Ontario on the unveiling of their new and effective branding. This important step signals they understand that communicating who they are and what they do is critically important. This is another positive development by Skilled Trades Ontario on becoming a responsive and modern regulator tradespeople and employers deserve."

– Frank Notte
Director of Government Relations – Trillium Automobile Dealers Association (TADA)
"We commend the government for redrawing and rebranding the system to address Ontario's labour shortage and bring transformational change that will remove the stigma surrounding the trades and promote the trades as a positive career choice."

– Chris Sutton
Director of Political Affairs – The Millwright Regional Council of Ontario
Additional Resources