Fostering the Talent that Drives Innovation – Lab One at Humber is Open!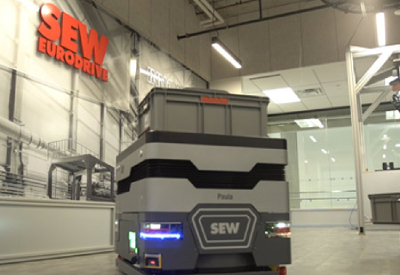 May 16, 2022
Ready To Discover Industry 4.0? SEW-Eurodrive's Innovation Lab (Lab ONE) is located inside Humber's 93,000 sq. ft. Barrett Centre for Technology Innovation. Lab ONE is referred to as a "Live Lab" because it demonstrates some of the worlds most sophisticated industrial work-flow processes in real time. The Lab is designed to validate the concepts of flexible manufacturing systems that are modular, connected, and utilize robotics to help improve plant safety, production efficiencies, and the overall quality of the product.
What To Expect at The Lab One Tour?
•AGVs: Gain insight and view live demonstrations of how AGVs can integrate into your manufacturing process.
•Augmented Reality (AR): See first-hand how AR is used to educate and guide workers to accurately perform a specific task with minimal training.
•MAXOLUTION®: Smart assembly pick by light—LED system: Reduce assembly errors with an intelligent pick by light system.
•MOVITRANS®: The contactless energy transfer power supply: Discover the real value of a contactless energy transfer system that operates on the principle of inductive energy transfer.
SEW-Eurodrive Innovation Lab is located inside the Barrett Centre for Technology Innovation—Humber College North Campus.
To book your tour, click here