New Release: WebLytics Software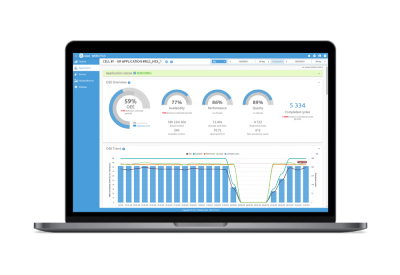 November 15, 2021
OnRobot introduces first production monitoring software solution to provide real-time, application-focused data for collaborative applications across all major robot brands.
WebLytics automatically collects equipment data from both robots and tools and transforms it into easy-to-understand, visualized device and application-level intelligence. It provides real-time, application-focused data for production monitoring, device diagnostics, and data analytics.
Get an immediate and transparent view into productivity. Integrating the globally recognized OEE industry-standard, WebLytics identifies trends in real-time in the robot cell, including patterns, peaks, and disturbances in application productivity.
WebLytics not only eliminates manual data collection – it provides actionable insights into how well a collaborative application is performing, offering live device diagnostics, alerts and preventive maintenance measures to keep costly robot cell downtime to a minimum.
Locally deployed monitoring solution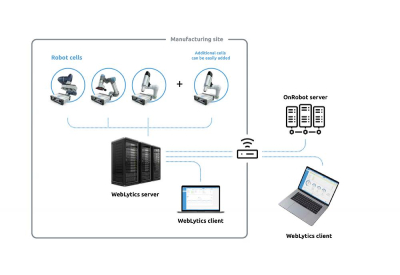 The WebLytics can be deployed on a shop floor's local network or added to a virtual network that connects to the robot cell. Collected data is stored locally on the WebLytics server. Meanwhile, WebLytics' built-in web server is always accessible from the shop floor network or from anywhere in the world via secure HTTPS connection.
The new Learn OnRobot platform gives you intuitive and practical guidance on how to integrate, operate and successfully deploy OnRobot solutions into applications on any leading robot brand. Find out how to get started and deploy WebLytics in an easy, step by step guide.
Learn more about how powerful WebLytics software can help you get more out of your collaborative manufacturing applications here