Omron Awarded with Top 5% S&P Global ESG Score in the S&P Global Sustainability Yearbook 2023
February 16, 2023
Omron Corporation is pleased to announce that it has been awarded the Top 5% S&P Global ESG Score on February 7th 2023, as ranked by S&P Global in the Sustainability Yearbook 2023. This report, one of the world's most comprehensive publications providing in-depth analysis on corporate responsibility, showcases the sustainability performance of the world's largest companies.
Omron is receiving this international recognition for its environmental, social and governance efforts within the Electronic Equipment, Instruments & Components industry, for the second time in a row.
The S&P Global ESG Scores are conducted by S&P Global, one of the world's leading providers of research and ratings in the field of socially responsible investing (SRI). Over 7,800 globally leading companies in sustainability from 61 different industries evaluated in the 2022 Corporate Sustainability Assessment (CSA) were considered for the Sustainability Yearbook.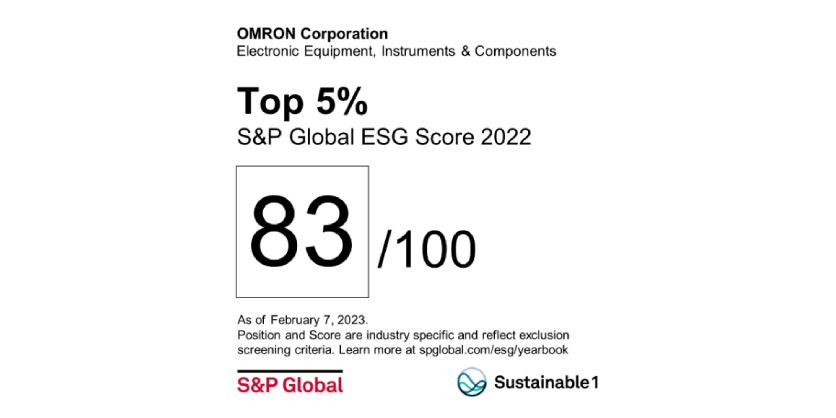 Only 708 top performing companies made it into the Yearbook 2023, including Omron, along with 83 other Japanese companies. Within each industry, companies achieving an ESG Score within a range of 1% to 5% of the industry's top-performing company are awarded the Top 5% S&P Global ESG Score.
Yue Liu, Senior General Manager of Sustainability Office at Omron Corporation, commented: "I am proud to see our commitment to sustainability, which was and continues to be at the core of the company since its establishment in 1933, recognized by S&P Global which uses one of the most advanced ESG scoring methodologies.

We believe that this honorable distinction is a result of our continuous efforts to fully integrate the material sustainability issues identified in our long-term vision, Shaping the Future 2030 (SF2030), into all of our business operations.

Our main mission is innovating for a sustainable future, we do this by putting people and the planet at the forefront of all our decisions and actions. The transparent communication of our progress helped set us apart and we will continue to promote disclosure by bolstering engagement with our employees, customers and business partners."

ue Liu, Senior General Manager of Sustainability Office at Omron Corporation
This year, Omron demonstrated strength in corporate sustainability with a high global ESG score of 83, showing continuous progress (75 in 2019, 80 in 2020, and 82 in 2021)*1 . In the environmental field, OMRON continued to seize business opportunities linked to climate change, as outlined in its long term vision SF2030 and in alignment with the guidance from the Task Force on Climate-related Financial Disclosures (TCFD).
In May 2022, the greenhouse gas emission reduction targets set in SF2030 were certified by the Science Based Targets Initiative, reinforcing Omron's commitment to bring about a decarbonized society through energy conservation and cleaner power consumption.
In the economic and social fields, Omron put innovation driven by social needs into high gear, achieving a perfect 100 score in Innovation Management with its open innovation approach. A notable example of the latter is the work done together with AISing to use cutting-edge AI technology to control manufacturing equipment, improving customer production lines.
Omron's Sustainability Initiatives
Under SF2030, Omron innovates for a sustainable future by putting people and the planet at the forefront of everything it does. To this end, Omron strives for a healthy, carbon neutral and inclusive digitalized society through automation that empowers people, practices respect for all to conduct ethical business in the value chain and mitigates climate change by striving for carbon neutral manufacturing and sustainable product design.
Omron firmly believes in greening its business and has been lauded by several ESG assessment institutions around the world, leading to the inclusion of its stock in global ESG indexes – including the globally recognized Dow Jones Sustainability World Index for the 6th straight year. Omron was rated highly across the board for social, governance and economic dimensions criteria. In particular, the company was at the top of the DJSI list among sector peer companies in the governance and economic dimension.
More Information
Omron's Sustainability website
Related Story
Manufacturing automation companies range from small to large, but even the smallest ones employ a variety of people with different roles, and therefore different concerns. Granted, everyone's ultimate goal is to help the company make profits and fulfill its mission, but this depends on the employees at different levels within the hierarchy attending to their specific concerns.
When investing in new automation technologies, and possibly a large-scale solution, it's important for company leadership to make sure that employees at all levels see the value in the investment and understand how it makes their specific jobs easier, Automation providers need to consider a customer's goals and pain points from all perspective within the organization.