Omron Announces PPD Automation as Certified Systems Integrator Partner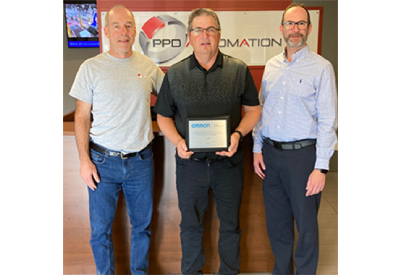 November 30, 2022
An industry-leading automation solutions provider Omron Automation Americas welcomes new partner PPD Automation, which has been expanding its robotics solutions portfolio to incorporate Omron collaborative and mobile robots.
Omron Automation Americas recently announced PPD Automation as a new partner in its Certified Systems Integrator program. A Quebec-based company with experience in control panel building, robotics, and Industry 4.0 solutions, PPD Automation's mission is to turn a challenge into an advantage by helping customers increase production speed, reduce costs, and maintain the highest product quality.
PPD Automation has been providing diverse technologies and turnkey automation solutions for manufacturers in industries like food and commodity using the legacy Omron "C" series PLC and the Sysmac platform. They recently incorporated Omron collaborative robots into a palletizing solution as part of their robotics offering. The company is now working with Omron to further expand this solutions portfolio by adding autonomous mobile robots (AMRs).
About the Omron Certified System Integrator program
The Omron Certified Systems Integrator program matches best-in-class solution providers with the technology, training, and resources required to deliver innovative and competitive solutions. With the rapid growth in automation technologies, manufacturers and business partners strive to deliver open and secure Industry 4.0 solutions that support flexible manufacturing and deliver a competitive advantage. The combined strength of this relationship solves customer challenges today while enabling more efficient, fully integrated systems that will successfully weather future demands.
For Omron, systems integrators play a critical role in designing and delivering fully integrated automation solutions. They also possess industry and application expertise in implementing the latest technologies from Omron and providing turnkey system solutions. "Our certified system integrator program provides end-users peace of mind when procuring automation solutions," says Peter Brouwer, Vice President of Sales, Omron Automation Americas. "These companies have proven expertise when it comes to implementing our latest technologies, and they have full access to local training and resources needed to successfully deliver fully integrated automation solutions."
PPD Automation has become a trusted Omron System Integrator through their continued excellence in project results. The certification process is a true statement of their ability to deliver consistently excellent results using Omron's Sysmac platform and collaborative technologies.
"Reaching the Certified Level is a significant milestone achieved by a talented team," says Mario St-Onge, VP of Sales and Shareholder. "Omron's single software architecture and development environment makes integration easy for control, safety, and motion, hence enabling our team to focus on generating value to our customer. Honing our skills on multi-robotic solutions and collaborative palletizing projects has been quite a stimulating journey. We look forward extending our collaboration with Omron to mobile robots to meet the continuously evolving needs of our customers."