Humber Recognizes Long-Time Supporter and Industry Connections with Named Atrium in The Barrett Centre for Technology Innovation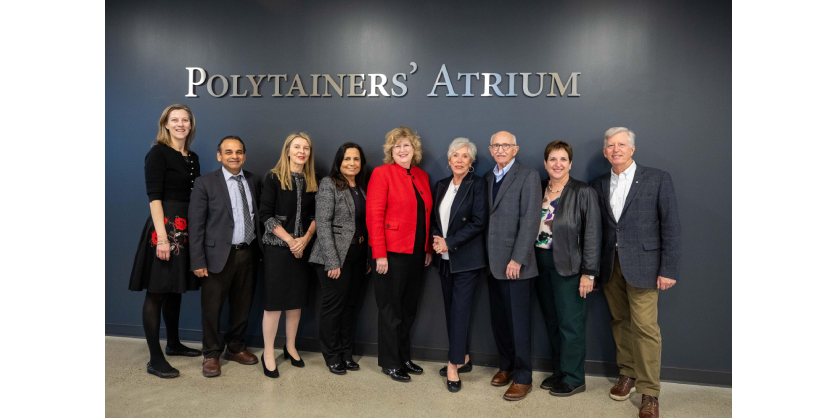 December 22, 2022
"We're proud to be formally acknowledging Polytainers and the incredible support Humber has received from Polytainers, the Barrett Family Foundation and the Barrett family. We're grateful for the unlimited possibilities you've provided for our students."
With those words, Humber College President and CEO Dr. Ann Marie Vaughan highlighted the importance of the longstanding relationship between the College, the Barrett family and their company Polytainers.
To honour that relationship, the atrium at the Barrett Centre for Technology Innovation (CTI) has been named the Polytainers' Atrium. A plaque sharing the Polytainers' story has also been installed.
Bob Barrett is the president and CEO of Polytainers and founded the Barrett Family Foundation along with his wife, and his daughters, Kim and Rebecca. The Barrett family are long-standing donors to the college supporting student scholarships, skills mentorship and the latest equipment and technology at the Barrett CTI on Humber's North Campus.
"We really appreciate the team here at Humber and it's a partnership like we have with no one," said Bob Barrett. "You are the number one."

"The acknowledgment means a lot to us," he continued. "We're so pleased to be able to work with this fine team here at Humber."
Gina Antonacci, senior vice-president, Academic at Humber, said the atrium's renaming and the addition of a plaque sharing the Polytainers story will highlight the relationship between the company and the Barrett CTI.
"Those who come into this building in the future will now understand the connection between Polytainers and the Barrett Centre for Technology Innovation," said Antonacci.
President Vaughan recently spent an afternoon touring the Polytainers facility with Bob Barrett, who elicited some laughs after he joked that he gave her an application, as President Vaughan was the kind of employee he was looking for.
"We wanted to have this plaque because it tells an amazing story of our ongoing relationship and the impact your generosity has had on Humber," said President Vaughan.
In addition to hiring Humber graduates, Polytainers has also provided work integrated learning and other experiential opportunities to Humber students.
Find out more about what the Barrett CTI offers by visiting its website.