Hannover Messe 2021 – Phoenix Contact Dialog Days Style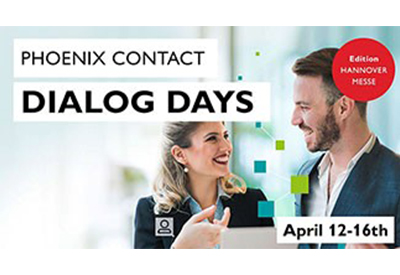 April 9, 2021
By Owen Hurst
The transition to virtual shows over the last year has for many changed the way we network and learn and even approach trade shows. But just because you attend from your home, office or even the jobsite does not mean the interaction and ability to access information and network with peers is gone. Some companies have strived to ensure the experience is as close to the real thing as possible.
Phoenix Contact is one of those companies that has gone above and beyond in delivering not just a virtual booth but a digital experience that resembles the experience one would gain from attendance. I have experienced Phoenix Contacts approach to Hannover Messe in Germany several times and when looking to this year's virtual offering I see many of the person experiences from the physical show developed in a virtual setting.
Phoenix Contact's Dialog Days – Hannover Messe Edition will still deliver an exciting cutting-edge trade show experience that can be accessed live or on-demand at your convenience. Like before it will showcase 2021 product highlights and trends. You may sign up for Live Tours with topic experts that will accompany you through the Exhibition space and interactive exhibition where you will find compact information about the latest solutions and products as well as trends and technologies and be able to discuss any topic with a Phoenix Contact expert.
Upon registering, you will be able to now create your very own 'My Dialog Space' – this becomes your personal account and grants you access to all of Phoenix Contact's digital live communication offerings and events. You can log in, participate and catch up at any time. You can configure your interests and topics that are most important to you and request Phoenix Contact to send you invitations and information that is very relevant to you personally.
This year some of the features presented will focus on:
– AN All-Electric Society
– 2021 Product Highlights
– Smart City Concepts and Solutions for Intelligent Cities
– Smart Safety for Industry 4.0
– M12 Push-Pull Connectors as a Market Standard
These features will be delivered through several primary topic fields such as electrification, Networking and automation (Digital Factories, Building Automation, E-Mobility, 5G and TSN, Edge Computing).
Register here and gain access to Phoenix Contact's Dialog Days and experience Hannover Messe Phoenix Contact style from wherever you are.