German Technology Day Will Be Here Soon. Register Now!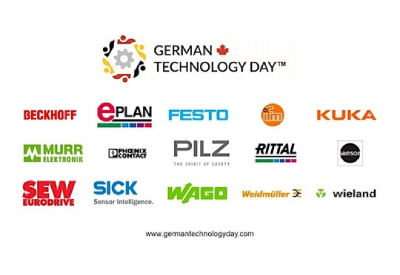 October 6, 2022
If you have pre-registered or are registering, please click here for the Oct 20 event in Toronto, and click here to register for the Nov 3 Montreal event!
Toronto | Thursday, Oct 20 | 8:00 am – 4:00 pm ET | Humber College
Montreal | Thursday, Nov 3 | 8:00 am – 4:00 pm ET | Plaza Centre-Ville
Fifteen prominent companies in automation and advanced manufacturing, based in Canada with their headquarters in Germany, are hosting Canada's fourth series of German Technology Days.
Register now for the Oct 20 Toronto event
Register now for the Nov 3 Montreal event
What's New: Innovation Hub
This year, the host companies are working on unique showcases of products from the various companies. Visitors will get the chance to witness true integration of technology, to find sustainable and efficient solutions that work for any environment, saving valuable resources and downtime!
Auditorium Sessions & Special Introductions
The Toronto and Montreal events will commence with greetings from the members of the German Consulate. This will be followed with sessions from each of the partners that tie into the main theme while highlighting some of their main solutions for Industry 4.0.
Click here for the agenda in English
Click here for the agenda in French
Exhibit Hall Booths
Each company will share their latest industry-leading, energy-efficient solutions, and introduce you to some of the most innovative technology in the industry at their individual booths, where you will have access to a range of videos, literature and case studies on the various solutions.
Media Centre
Visit the Media Centre where our e Industry-leading Media partners will introduce you to various aspects of our German Technology Day including articles, interviews, videos and coverage of the event. Click here for the Media Partners
Register now and enjoy collaborating with us at GTD 2022.
Parking is free for the first 200 attendees with proof of registration!
*Prizes will be announced after the event!
Click here for the French Version of the Invitation
More information? Click here