New SPDE Series of High Performance, Ultra-Compact DIN-Rail Mount Power Supplies
February 1, 2023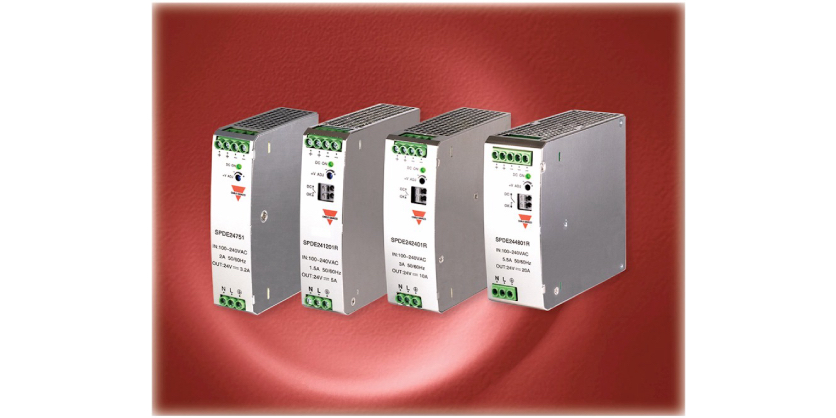 Carlo Gavazzi is excited to introduce the new SPDE Power Supply Series, ultra-compact single-phase DIN-rail power supplies designed for electrical panels. The SPDE Series consists of three frame sizes, starting from 75 W with 32 mm width, through a 480 W with 48 mm width. Their ultra-compact housing design allows them to save up to 50% panel space, making them ideal for applications where space is limited.
The high quality of the SPDE is certified by a series of industry approvals: CE, UKCA, UL61010, and UL62368. Integrated diagnostic and protection functions such as output short circuit, over current, over voltage, and over temperature provide the user with maximum output protection.
The SPDE Series single-phase DIN-rail power supply combines high performance in an ultra-compact housing design, saving up to 50% panel space. This Series guarantees efficiency and certified production controls by complying with the latest industry standards UL61010 and UL62368.
Main technical features include:
Universal input voltage range: 90 VAC to 264 VAC; 120 VDC to 370 VDC
Output voltage range 12 VDC, 24 VDC or 48 VDC
Max. Output power ranges from 75W to 480 W
Ultra-compact dimensions
Built-in active PFC for higher efficiency (only in SPDE..R models)
DC OK relay indication (only in SPDE..R models)
Efficiency up to 94%
Overvoltage category II
The SPDE Series Power Supplies are optimally suited for applications where space savings, high efficiency, and wide operating temperatures are required. They are available from Carlo Gavazzi's network of sales offices and distributors across the Americas.
More Information
Related Product
CARLO GAVAZZI is excited to announce the launch of the RPYS Series Electromechanical Plug-In Relays, with screw and push-in terminal sockets, and accessories that include busbars, retention clips, ID tags, and protection module.
The slim, compact design of the RPYS is ideal for electronic and automation panels with limited space. Its 13mm wide footprint saves customers more than 30% of utilized space when compared to other industrial plug-in relays. Matching sockets are available in both screw and push-in terminals versions for quick and easy wiring as well as vibration resistant connections. Wiring is further simplified by interconnecting multiple relays and sockets by means of busbars.