Perfect Finish Due to Automated Surface Machining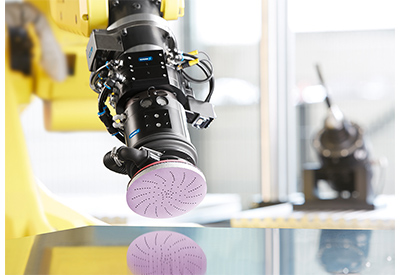 April 16, 2021
Surfaces are machined by grinding and polishing. With coarse material removal as a post-processing operation, for further machining, or fine machining, sensitivity and precise readjustment are required to achieve the perfect workpiece finish. Experienced employees perform these tasks intuitively, but manual machining is hard, fatiguing work that is expensive and guarantees no consistently good end result. Modern robot-based automation solutions can perform these taks and impress with optimal performance. The result: perfect surfaces with only a small investment. For offering new possibilities of automating processes, SCHUNK, a competent provider of gripping systems and clamping technology has expanded its portfolio with tools for robot-supported surface machining.
Perfect surfaces are essential in the field of wood and metal machining, but also in the automotive and aerospace industry. Manual polishing, grinding and brushing operations can be exhausting, and are entailed with high efforts. Automated processes offer attractive solutions to these efforts because they achieve perfect results with the help of a robot, considerably reducing time and costs and lowering the risk of employee injury. The new AOV and MFT-R units from SCHUNK make the changeover to automated surface machining easy and simple. But SCHUNK offers even more: if a customer wants to introduce automated processes in their company, SCHUNK supports them with feasibility studies and comprehensive process knowledge.
The right tool for any purpose
The new SCHUNK machining tools are especially designed for automated applications and always ensure perfectly machined surfaces. The AOV orbital sander tool is the "specialist" in grinding and polishing workpiece surfaces. The pneumatic unit is driven by a vane motor and achieves rotational speeds of 10,000 RPM. The axial bearing of the motor ensures compliance, and consistent contact forces act on the workpiece surface. Perfect polishing and grinding results can thus be achieved, even if the surfaces initially were uneven. The contact force can be controlled in two directions via air connections. In other words, during extending and retracting, separate control is possible and may vary if required (range: 6.7 to 67 N.) This ensures that the AOV is machining with consistent contact force even in the case of overhead applications. The orbital sander tool can be equipped with sanding discs of various diameters (125 mm respectively 5", or 150 mm respectively 6".) The grinding tool can be equipped with a suction connection for removed materials, thereby reducing contamination of the robot cell, which further avoids downtimes and results in cost savings.
Users who require a particularly flexible and robust polishing spindle for polishing and brushing of workpieces with axial compliance, the MFT-R is the ideal solution. The spindle is equipped with a pneumatic vane motor with a maximum rotational speed of up to 5,600 RPM, but the rotational speed can be reduced to a minimum for achieving perfect surface end results. The robust motor has a very short stopping time and therefore reduces the whole machining time. Due to the gimballed bearing, the compensation force and radial compliance of the tool are individually adjustable. Depending on the pressure setting, compliance can be adjusted between 9 N to 70 N. The user can use the optimal value for any application, and therefore achieves high-quality and reproducible results in any installation position. Any workpiece tolerance can be compensated and clearly simplifies path programming of the robot. But the MFT-R has many more features and therefore turns out to be user-friendly: due to the optional axis fixation, the changeover from pendulum to radial compensation is quick and easily possible. Therefore, different workpiece geometries can be flexibly machined with just one tool – this is an economic advantage and helps to cut investment costs almost in half. The MFT-R is available as a stationary unit or can be flexibly mounted to the robot (axially or radially.) SCHUNK offers prefabricated adapter plates for these applications and valuable time can be saved when designing the process.
The PCFC unit completes the SCHUNK portfolio. If a workpiece must be machined with a previously defined force, the compensation unit renders excellent services. The PCFC ensures that a consistent compliance force is acting in any position, due to the position sensor. It compensates the weight force together with the pressure control valves provided by the customer. The PCFC can be combined with various tools and is therefore suitable for numerous application purposes.
More precision and diversity at a manageable programming and design effort: this is how efficient surface machining can be with the tools from SCHUNK.