Parker Unveils Next Generation of High Performing Thermal Gap Filler Pads
January 19, 2022
The Chomerics division of Parker Hannifin Corporation, a leader in motion and control technologies, has announced the launch of THERM-A-GAP™ PAD 30 and THERM-A-GAP™ PAD 60, the next-generation of thermally conductive gap filler pads from Parker Chomerics.
With performance of 3.2 W/m-K thermal conductivity, THERM-A-GAP PAD 30 reliably conforms to rough surface irregularities and air gaps on heat-generating components. For higher performance applications, THERM-A-GAP PAD 60 offers the enticing combination of both excellent thermal conductivity at 6.0 W/m-K, while being more than 40% softer than current like-performance thermal gap pads from Parker Chomerics.
"Thermal gap filler pads continue to be designed and used in greater capacities for both price-sensitive markets, as well as those requiring high-performance materials," said Brian Mahoney, thermal business unit manager, Chomerics Division. "We're thrilled to expand our already impressive family of thermal gap filler pads with these next-generation offerings."

Watch this short video and see how easily precise pick-and-place can be.
Parker's new thermal materials are manufactured globally and available in standard sheet sizes and thicknesses. They can easily be die-cut to custom dimensions and have various carrier and adhesive options for ease of use.
Features and benefits:
0 W/m-K Thermal Conductivity
Ultra-Soft 31 Shore 00
Low NASA Outgassing
40% Softer Than Previous Gap Pads
Precise pick-and-place with ease
Excellent elasticity
Bounces back after compression
THERM-A-GAP PAD 60 offers excellent thermal properties and high conformability at low clamping forces. Thermal gap filler pads can "blanket" multiple components with minimal stress all while reducing "hot spots" on a PCB.
Easily released from liner for effective positioning by automated robotics.
Applications: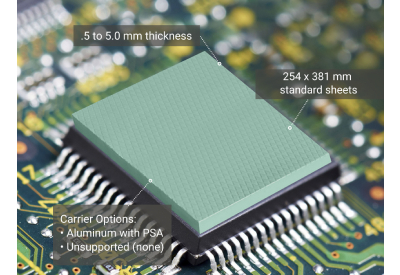 Advanced driver safety technology with increased reliability
Effective thermal heat dissipation in electronics devices critical to driver safety.
Automotive electronics
Automotive cameras/sensors
Smart home devices
Audio technology
Effective thermal heat dissipation for connected consumer devices.
Smart home devices
Audio technology and speakers
Security cameras and sensors
Reliable 5G communications infrastructure.
Help facilitate the development of next generation 5G networks and devices.
5G telecom infrastructure
Massive MIMO base stations and antennas
BBUs and RRUs
A cooler, faster CPU. Over clockers, this one's for you. Improve speed and reliability.
CPUs/motherboards
Power supplies
LED lighting
THERM-A-GAP PAD 30 and THERM-A-GAP PAD 60 deliver reliable thermal performance, boosting component performance and efficiency. Parker Chomerics THERM-A-GAP gap filler pads are a family of low soft, thermally conductive silicone and non-silicone elastomers for applications where heat must be conducted over a large and variant gap between a semiconductor component and a heat dissipating surface.
For more information on the family of THERM-A-GAP Thermal Gap Filler Pads, click here
For a free sample, click here