Osensa Announces Fiber Optic Temperature Monitoring Solution for Medium Voltage Equipment Including Switchgear and Busbars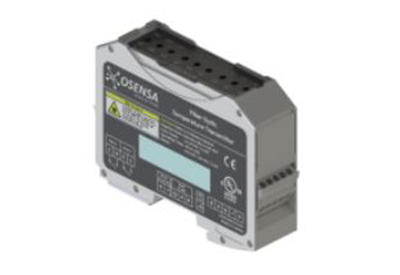 December 24, 2020
In late April of 2020, OSENSA Innovations Corp. announced the commercial availability of its FTX-910-PWR+R fiber optic temperature transmitter with PRB-910 and PRB-110 probes for continuous monitoring of electrical hot spots in equipment up to 38kV. The FTX-910-PWR+R temperature transmitter, also known as a signal conditioner, is a compact solution featuring 9 optical sensor inputs in a 35mm DIN-rail mountable package. The PRB-910 and PRB-110 temperature probes install on switchgear contacts, busbars, disconnect switches, cast resin transformers, energy storage devices, motors, and generator windings to provide reliable 24/7 thermal monitoring with noise-free performance. The PRB-110 probes measure temperature up to 120°C and the PRB-910 probes measure temperature up to 200°C.
Hot spots on medium voltage equipment are common, hard to detect, highly dangerous to personnel, and potentially catastrophic if not discovered in time. These thermal points are typically located inside energized equipment behind safety doors or covers. The legacy approach of locating hot spots and monitoring them with infrared imaging is expensive, inaccurate and potentially hazardous to the electrical personnel. OSENSA's FTX-910-PWR+R medium voltage temperature sensing solution provides real-time monitoring and notification when a temperature problem arises. Expensive monitoring visits are no-longer required, and personnel safety is no-longer compromised.
The FTX-910-PWR+R fiber optic temperature transmitter features two programmable form A relay outputs for alarms, with easy-to-use configuration and monitoring software. The device is powered by 12-24V DC and includes isolated RS-485 serial connectivity over the industry standard Modbus RTU protocol. Multiple transmitters can be connected in series on a standard 35mm DIN rail. 6 channel (FTX-610-PWR+R) and 3 channel (FTX-310-PWR+R) transmitters are also available.
The PRB-910 and PRB-110 temperature probes are constructed from durable, high dielectric strength materials and have been tested to safely operate on equipment up to 38kV. The probes have been tested against, and exceed, the IEEE C37.23-2003 "IEEE Standard for Metal-Enclosed Bus" standard. The probes are easily cut to length at time of installation, and come available with various-sized ring lugs for simple attachment to the monitored equipment.