Mouser Electronics: Lumberg Automation Sensor/Actuator Connectors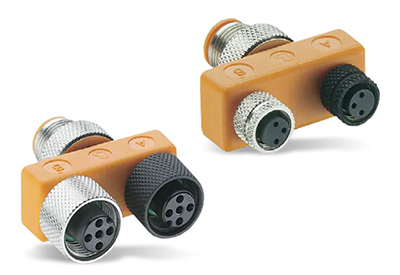 June 15, 2021
Lumberg Automation Sensor/Actuator Connectors include M8 and M12 connectors and cordsets with flexible and robust design as well as a large number of standard and special options. Lumberg's offerings of sensor/actuator connectors are suitable for a wide variety of application markets such as food and beverage, transportation, automotive, or material handling.
EIGHT-POLE M8 ACTUATOR/SENSOR
Eight-Pole M8 Actuator/Sensor Connectors provide high contact density despite compact dimensions and are IP67 rated. These connectors feature a -25°C to +80ºC temperature range and shock and vibration resistance while offering a high degree of flexibility. The Eight-Pole M8 Actuator/Sensor Connectors are a suitable solution for practically all installation requirements.
M12 ANGLE WITH 360° SHIELDING
M12 Angle Connectors with 360° Shielding are equipped with the highest industrial protection class IP69K. These new angle connectors and couplers reliably secure transmission of analog and digital data, even in harsh industrial environments. These connectors offer secure data transmission of analog and digital signals for maximum efficiency and functional reliability. Shock and vibration resistance ensures increased machine uptime. Typical applications include automated systems in food processing, packaging, machine tool engineering, automobile manufacturing, and many other industries that work at extremely high speeds and often create strong vibrations.
WASH-DOWN SERIES
Wash-down Series Connectors combine M8 and M12 connection technology with ECOLAB UL Certification. These connectors offer fast and easy commissioning and feature industrial protection class IP69K with resistance to aggressive chemicals to guarantee long-term functional reliability. The Wash-down series of connectors has an operating temperature range of up to 105ºC (UL up to 90ºC). The connectors have been developed for use in the food and beverage sector and in the chemical and pharmaceutical industry. They can be used in bottling plants for bottling and packaging or bottle cleaning applications.
M8 5-POLE B-CODED CORDSETS
M8 5-Pole B-Coded Cordsets deliver greater power in a smaller and lighter cordset that meets high standards for 4.0 environments. Available in both snap and screw designs to meet quick-install and Industrial Internet of Things (IoT) needs, these cordsets increase power transmission with a maximum of 4A of current and up to 60V, delivering 2.5 times the standard specifications for power transmissions. The M8 5-Pole B-Coded Cordsets offer a robust solution to connectivity and communications requirements.
NP 1067LE FOR ROBOTICS
NP 1067LE Connectors for Robotics use a 4-pole control cable ideal for robotic applications based on the tried-and-tested Lumflex program. Excellent torsional strength offers high productivity even under harsh environmental conditions, is suitable for use with drag chains, and offers resistance to welding sparks.
PASSIVE ASB-R RUGGED DISTRIBUTION BOXES
Passive ASB-R Rugged Distribution Boxes guarantee secure wiring for sensors and actuators in the field and minimizes downtime while increasing productivity. With fully potted die-cast zinc housings, these distribution boxes can withstand the harshest conditions and offer over twenty variations, including some for analog signals, to facilitate optimal solutions for a variety of applications and scenarios.