Omron Launches Next-Generation i4L SCARA Robot Series With Compact Footprint and Exceptional Performance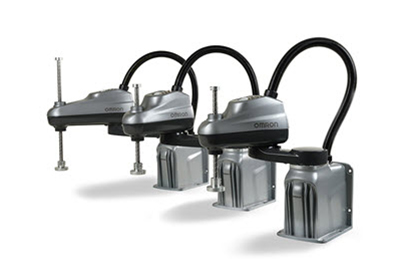 April 15, 2021
Omron Automation Americas has recently announced that it will begin selling a new industrial robot series, the i4L. The i4L is a compact SCARA robot with strong performance, a flexible design for simple installation, and easy-to-use features that maximize productivity. The robot's high-end inertia, repeatability and small footprint make it ideal for a wide range of applications, including digital assembly, material handling and dispensing. It can be table-mounted or wall-mounted without additional hardware or brackets.
The need for affordable and autonomous material handling solutions is quickly increasing, not only due to innovation and competition, but also as a result of increasing labor shortages and the new pandemic-related social distancing requirements. Fast-paced manufacturing environments require speed and flexibility, and the movement of products and material within the factory and warehouse is becoming a real challenge for many companies. These challenges are leading to a growing interest in robotic solutions for material handling and related tasks.
To help manufacturers take advantage of affordable automation technology, Omron is setting a new standard in the light-duty SCARA market by bringing strong performance at the most competitive price with the i4L. The i4L can work 24 hours a day, with powerful yet easy-to-use programming tools that reduce setup time and an interactive status light makes diagnostics much quicker and more efficient. The robot has three working envelope options with reaches of 350, 450 and 550mm, and its exceptional performance and best-in-class integration flexibility are key contributors to its low cost of ownership.
Highlights of the i4L SCARA robot include:
– Segment-leading performance. The i4L series features high-inertia and high-duty ratings which are uncommon in lighter-duty SCARA robots. Combined with a 5kg (about 11 lbs.) payload and a high degree of repeatability, the i4L can tackle more challenging processes with ease and with mitigated unexpected faults.
– Simple integration. Out-of-the-box, the i4L can be mounted on tables or walls and offers options for rear or bottom cable routing to provide the installation flexibility that best suits the application need. The controller is conveniently integrated inside of the robot, eliminating the need for extra floor space. The i4L is also equipped with standard, built-in connections for communications, I/O and pneumatics, making connection to other automation devices easy.
– Powerful tools to optimize efficiency and maximize productivity. Programmed with Omron's renowned "Automation Control Environment" software package (ACE), the i4L comes with a powerful yet intuitive suite of programming tools. Menu-guided wizards for motion, vision, and process programming make application setup easy. If needed, the open architecture of the eV+ language enables a significant level of customization to help users get the most value out of the i4L's operation.
– Quick and efficient diagnostic tools. Interactive maintenance alarms alert users of service intervals and – in conjunction with the i4L's high-visibility, customizable, multi-colored LED dome light – help users diagnose problems more quickly.
Additional features include:
– Multiple sizes available (350 mm, 450mm, and 550mm reaches)
– Lightweight design (maximum 16.52kg for 550mm model)
– Low voltage requirement (48V "high power")
– Maintenance-friendly modular design
– Upgradable platform supports additions of new functions and capabilities in the future
– Compatibility with existing Omron robot accessories and Omron's full line of automation products