New Cylinder Becomes Seventh Member of Festo's Simplified Motion Series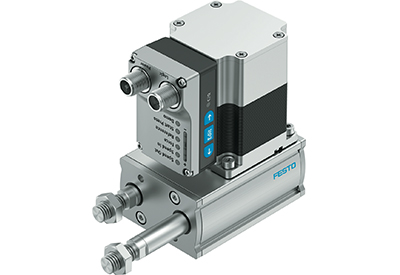 November 26, 2020
And then there were seven. The EPCE electric cylinder has recently become the seventh member of Festo's Simplified Motion Series (SMS), a family of electric actuators that mimics the simplicity of pneumatics in performing simple point-to-point movements or positioning tasks. Each has an integrated servo drive, controller and electronics, and two on-board control options as standard: Digital I/O and IO-Link.
The EPCE cylinder unit is ideal for fast movement in sorting, distribution and testing applications. It converts the rotary motion of the mounted motor into the linear motion of a piston rod or rods via an internal toothed belt drive. The EPCE toothed belt technology provides maximum dynamic response and minimal positioning times. Its minimal zero stroke and extremely compact design make it an ideal choice for applications in small spaces.
There are numerous variants available, based on the location and number of piston rod(s), left or right, front or rear, etc. (Units with 1-4 piston rods are available, and there are through-piston rod as well as dual opposite-direction piston rod variants as well.)
The EPCE has all the same easy-to-set-up virtues as the other six SMS actuators to appeal to users who want an economical electrical alternative to pneumatic cylinders that's simpler than most electric automation solutions to activate. Commissioning is fast and easy; all parameters are set manually on board the device. No software or special expertise is required to get the unit up and running. Extended functions are possible with IO-Link.
For more information, visit www.festo.com.