IP54, IP65 and IP67 FIEPOS, Field Power Supplies
May 4, 2023
The decentralized FIEPOS power supplies with high protection classes IP54, IP65 or IP67 were developed for flexible use directly in the field.
300 W or 500 W

For 1-phase or 3-phase systems

IP54 or IP65/IP67

Reliable protection against water and dust

LED interface

Immediate diagnosis in the field

No potting
Current-limited outputs

Selective power distribution and protection

High flexibility

Various connector and mounting options
Decentralization. Field power supplies.
The need for flexible, modular systems shapes machine and system engineering. Decentralization of the system components has proven to be an important factor for success. It speeds up system planning, simplifies maintenance and enables an easy expansion of the system. In addition, control cabinets can be replaced by smaller versions or even completely dismantled.
With FIEPOS, short for FIEld POwer Supply, PULS presents a new type of power supply that was developed precisely for this environment: A decentralized field power supply with protection class IP54, IP65 or IP67 that is available ex stock, is easy to install and flexible enough to meet the diverse requirements of modular factory automation.
In short, PULS' field power supplies are the alternative to a power supply in the centralized control cabinet, decentralized on-site control box or a customer-specific solution.

Until now: Traditional system design with central IP20 power supply
The centralized supply of peripheral devices in the field requires long cable runs with a large cross-section. Due to the power losses caused by the long cables, the power supply must be over-sized.
New: Modular system design with IP54, IP65 or IP67 power supplies
FIEPOS field power supplies are perfect for supplying spacious applications with energy in a decentralized, efficient and flexible way. This enables a modular system structure as well as an effective expansion, maintenance and retrofitting of individual components of the system.
Field power supply series. The right solution for every application.
1 high-power DC output – Basic series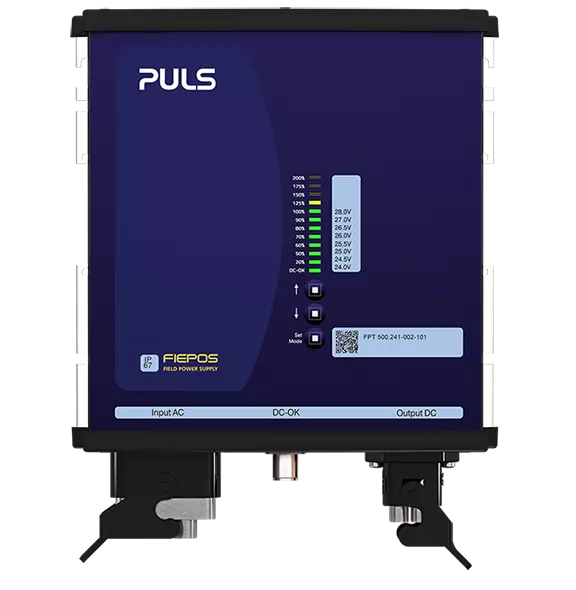 The FIEPOS Basic series offers one DC output and is available with a power of 300 Wor 500 W. The IP54, IP65 and IP67 field power supplies are perfect for the decentralized supply of 1-phase or 3-phase systems and machines.
Special Features
Available connectors
7/8 ", M12, HAN-Q series and Quickon.
Further connector configurations on request.
Communication
IO-Link or DC-OK
Up to 4 current-limited DC outputs – eFused series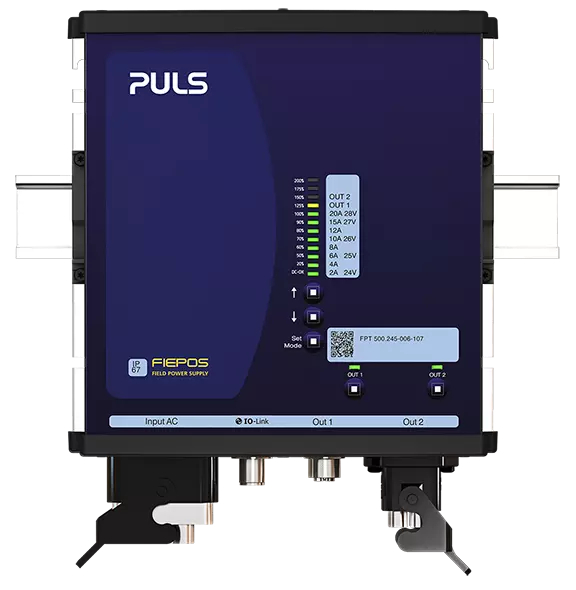 The field power supplies of the FIEPOS eFused series have up to four current-limited outputs. These devices make it easy to implement selective power distribution, protection and monitoring directly in the field. The eFused series is therefore a space-saving, fused power supply system. It is a real alternative to a power supply unit with an external, electronic protection module.
Special Features
Available connectors
7/8 ", M12, HAN-Q series and Quickon.
Further connector configurations on request.
Communication
IO-Link or Output OK (both via M12-connector)
Up to 4 current limited outputs
Selective shutdown in the event of a fault
Selectivity function
Protection of sensitive loads through prioritized outputs
Staggered output activation
According to priority in 100ms increments
Benefits. Save costs, time and space.
Flexibility
The compact housing with a high degree of ingress protection (IP54, IP65 or IP67) and various connector options enables the FIEPOS power supply to be installed flexibly outside of the control cabinet and directly on the machine.
Ease of use
The output voltage and the current-limited outputs (eFused series) can be monitored and set directly via theLED interface and the push buttons on the front of the device or remotely via IO-Link.
Cost savings
FIEPOS field power supplies make it possible to use shorter cables and smaller cable cross-sections. This not only saves on the costs of copper, but also on the installation work for the cabling. In addition, an all-in-one device can be used instead of several components. This means less effort in managing part numbers and less time effort in installation.
Space savings
Thanks to the integrated, current-limited outputs in the FIEPOS eFused series, no additional protection module is required. This saves space in the system. In addition, centralized control cabinets and decentralized on-site control boxes can be reduced and the space can be used to expand the system. Fewer components also mean more free space in the warehouse.
More Information
Related Story
With its Field Power Supplies (FIEPOS), PULS won the "Automation Innovation Award – Power Distribution Category" once again in the 21st CAIMRS Automation and Digitalisation Annual Selection.
On February 24th, the "2023 China Automation + Digitalization Industry Annual Conference" and the "CAIMRS Annual Awards Ceremony" were successfully held in Suzhou, China. The event attracted hundreds of top industry experts to showcase outstanding achievements in industry digitalisation, to discuss the future of the industry, and to explore smart technology and industrial transformation.