How the NXR Series Makes IIoT Adoption Easier In All Manufacturing Environments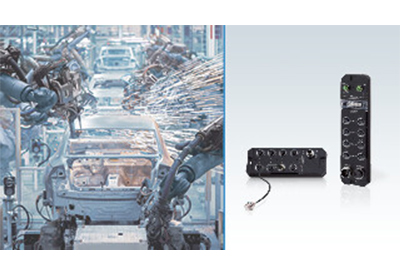 March 18, 2021
Manufacturers are seeking to address the chronic shortage of engineers with the right expertise by adopting modern networking technologies. Conventional methods don't always work in these situations, and production floors are seeing a rise in certain problems such as the lengthening of mean time to repair (MTTR).
Omron's new NXR Series I/O platform mitigates these issues through the use of time-saving functions that Omron developed after performing a thorough analysis of production processes and determining which tasks are inefficient. It provides an IP67-rated, distributed connectivity solution that simplifies the adoption Industrial Internet of Things (IIoT) technologies.
Let's take a detailed look the benefits of the NXR and why it's perfect for IIoT.
It's easy to set up and maintain
As a part of the fully integrated Sysmac platform, the NXR has an IO-Link hub that reduces wiring needs in machine startup and replacement while increasing data utilization capabilities. IO-Link reduces wiring by leveraging networks (in this case EIP) to let users run one cable to the NXR master or hub located where the I/O devices are mounted instead of 2-3 wires per device.
IO-Link provides a connection between sensors/actuators and interface modules to allow more data beyond a basic ON/OFF reading to be collected. Information such as process values, parameters and diagnostic messages can be exchanged, broadening the pool of information that can be analyzed for trends and opportunities for improvement.
It's a great way to monitor network health
Thanks to the additional data from IO-Link along with LED indicators for diagnostics and a DIP switch IP address setting, the NXR helps keep tabs on network health. In fact, the platform can reduce sensor failure downtime incidents by 50 percent, cut cable failure downtime incidents by 67 percent, and reduce setup and recovery times by up to 90 percent, shortening MTTR.
Quantified Ethernet and IO-Link communication status displays allow the user to easily find network cabling errors before the operation. During operation, communication status can be monitored so that it's possible to check the system before it stops unexpectedly.
It's ruggedized for the harshest of environments
One of the most challenging things about adopting advanced technology in a manufacturing setting is the presence of dust, dirt, grease, humidity, high temperatures, high pressures and any other things that might characterize the surroundings. Delicate devices meet harsh environments and may be vulnerable to rapid breakdown.
Fortunately, the NXR has been ruggedized to withstand these environmental factors. With an IP67 rating, it's ideal for applications like tooling, assembly and machining in the automotive industry and pick-to-light systems and vertical form fill seal (VFFS) machines in the packaging industry.