GPP/GPD5000IL Gripper Series With Three New Sizes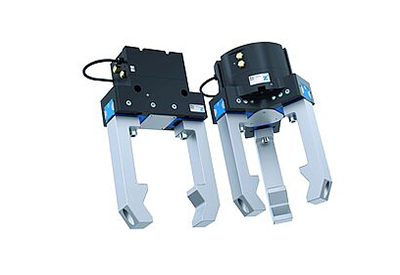 December 24, 2020
The Zimmer Group has recently added three new sizes to its successful GPP5000IL and GPD5000IL gripper series. These pneumatic-electric hybrid grippers are excellent for users who are bringing their gripping applications into the world of Industry 4.0, but do not want to forgo a pneumatic drive.
The GPP/GPD5000IL series, available as parallel (GPP5000IL) and concentric (GPD5000IL) grippers, has been on the market to date with three different sizes, 5006IL, 5008IL and 5010IL. They have a maximum stroke per gripper jaw of six, eight or ten millimeters, respectively. The series is now expanded with the new sizes of 5013IL, 5016IL and 5025IL, which cover a maximum stroke per jaw of thirteen, sixteen and fifteen millimeters, accordingly.
The pneumatic-electric GPP/GPD5000IL hybrid grippers are equipped with an integrated pneumatic valve that is controlled via IO-Link. Since there is no longer a fixed hose connection between the valve and piston that needs to be filled or emptied for each cycle, the grippers have a short reaction time and are faster than other pneumatic grippers. A sensor is integrated into the gripper that determines the position of the gripper jaws in the range of +- 0.05 millimeters. As a result, not only is process monitoring possible, but also the identification of workpieces based on their diameter, for instance. In this process, different diameters are assigned to different workpiece numbers, which are then relayed to the control system via IO-Link. Furthermore, a total of 32 workpiece data records can be programmed into the GPP/GPD5000IL grippers. An unlimited number of recipes can also be stored in the PLC, of course, which can be continuously called up by the gripper as needed.
The GPP/GPD5000IL economizes in three ways: First, thanks to their connection concept, they only need one air hose and one connection cable, with no additional valve terminal. Second, the integrated valve and control system makes them energy efficient. The third factor is cost savings thanks to predictive maintenance, which is associated with increased cost efficiency and production availability. To integrate the grippers, only a pneumatic hose and the IO-Link cable need to be connected. Using an IO-Link interface, the product communicates with the IO-Link master of the superordinate bus node or the PLC.
Where mechanics are concerned, the hybrid gripper offers the same amenities as the other variants of the 5000 premium series. They are universally applicable, protected against corrosion and offer high gripping forces at large gripper finger lengths. Even in the standard version, they feature IP64 sealing so that these grippers can also be used under challenging ambient conditions. Their high replacement accuracy enables rapid replacement without any considerable interruption in production.
The robust hard-coated guides, with a low friction coefficient, extreme hardness and excellent emergency running properties ensure that the grippers can handle 30 million cycles without maintenance while also enduring adverse working conditions without difficulty.