Full-Featured RocketLinx Managed Ethernet Switches Join Industrial Communication Portfolio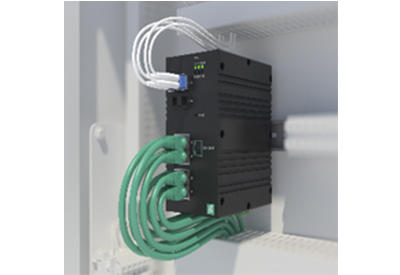 December 11, 2020
Ethernet switches provide the means for efficient and reliable communication of network data, ensuring that devices from field to enterprise reliably communicate across the network. As a full-service provider for IIoT solutions, Pepperl+Fuchs is now introducing RocketLinx managed Ethernet switches that complement its portfolio for field-to-cloud communication. Featuring a high-quality, rugged metal housing, these products offer a range of important performance, management, and security features including VLANs, Quality of Service, redundant ring topologies, and event notifications. In addition to standard copper connections, the managed switches offer optical fiber SFP ports. With Gigabit speed on all ports, the RocketLinx managed switches enable efficient data transfer over long distances or when immunity to electromagnetic interference is required. Together with the range of unmanaged switches for device-level connectivity, RocketLinx managed switches deliver a flexible system that can be individually and cost-effectively expanded to meet the widest variety of application requirements.
SFP Fiber Transceiver for Full Flexibility
Conventional Ethernet switches usually have copper connections that transfer data up to 100 m with no loss in performance. However, these types of connections are susceptible to electromagnetic radiation, making them unusable for certain applications. Pepperl+Fuchs has therefore developed various RocketLinx Ethernet switches that include additional SFP fiber connectors for compatibility with small form-factor pluggable (SFP) transceivers. These fiber connectors are not affected by electromagnetic radiation and enable efficient data transfer at Faster Ethernet or Gigabit speeds across long distances up to 120 km. As an example, SFP transceivers can be used for effective communication in electrically noisy factory settings and to easily extend networks of managed Ethernet switches across large areas like wind and solar power parks. The transceivers are not permanently installed in the device. Instead, they can be added as needed, to match the required data transfer range. Hot plugging allows SFP transceivers to be replaced during operation. This ensures that switches can be reconfigured as requirements change over time, reducing both the need for costly infrastructure upgrades and downtime. Unmanaged Ethernet switches are also available. These versions make it easy and cost-effective to extend networks at the field level.
Configuration and Device Management via Web Server, PortVision DX, or CLI
The Ethernet switches can be configured and managed via command line interface (CLI), via the integrated web server, and by using the free PortVision DX software. PortVision DX from Pepperl+Fuchs is an intuitive Windows-based tool for configuring, monitoring, and controlling multiple devices. Users can generate a list of all RocketLinx managed switches just by clicking the "Scan" button. From that list, network settings, security, redundancy and other parameters can be configured. It is also possible to save the settings from one switch to a configuration file and then push that file to other switches to greatly reduce setup and overall deployment time. In addition to simplified configuration, PortVision DX provides a valuable diagnostic tool enabling near real-time monitoring of the status of connected switches and facilitating easy firmware updates from within a single intuitive user interface.
Highlights of the Managed Ethernet Switches
– Advanced management and cybersecurity features for optimized performance and network protection
– Unmanaged and managed Ethernet switches featuring SFP Gigabit port speeds for efficient data transfer
– Modular, flexible system can be expanded with SFP transceivers
– Hot plugging allows SFP transceivers to be replaced during operation
– User-friendly configuration via web interface or free, windows-based PortVision DX software