Festo OGVM Suction Cups Provide a Sure Grip on Big Loads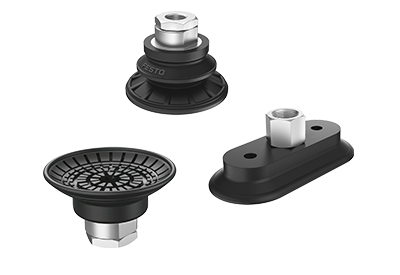 February 23, 2021
Festo's growing portfolio of gripper solutions is expanding once more with the OGVM, a family of vacuum suction cups that makes the handling of heavy oily and dry sheets really dynamic. These suction cups were developed with the needs of the automotive sector in mind – for use in press-fitting lines, body shops and final assembly. They're also ideal for manufacturers of white goods and wherever sheet metal is moved – speeding up handling processes and making them safer.
The special structure of the inside of the suction cups enables them to absorb the highest transverse forces. The suction ergonomics of the OGVM ensure minimum suction times, and high inherent stability in the suction state and the absorption of extreme holding and transverse forces, including on oiled surfaces. And the large strokes of some variants make it ideal for workpieces with complex structures. OGVM benefits include making handling solutions very energy efficient, with optimum suction ergonomics for maximum process reliability, and they come with accessories to adapt them to a wide range of applications. OGVM suction cups are available in diameters from 30 to 125 mm, in three basic shapes.
Festo's galaxy of gripper solutions has expanded along with the automation universe, and now includes a large portfolio of mechanical, vacuum and magnetic grippers – both electrically and pneumatically actuated – as well as pioneering in the new field of adaptive grippers. The latter feature Festo's DHAS with the patented Fin Ray® structure, derived from the movement of a fish tail. Or the shape-shifting DHEF, which can handle many different types of objects without the need to change grippers. Grippers are available in a huge size range, from the extremely compact rotary gripper module EHMD for light assembly and med-lab tasks in very tight spaces to heavy duty models for moving big loads in heavy industry.
For more information, visit www.festo.com, or check out Festo's blog at www.festoblog.com.