Collaborative Robots by UR Are Transforming a Range of Industries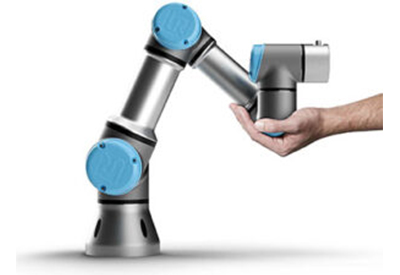 October 13, 2021
Universal Robots (UR) is changing the face of manufacturing with its collaborative robot arms, or "cobots", available in Canada from Advanced Motion & Controls Ltd. Cobots are boosting output and quality across a broad variety of industries, while increasing production flexibility and improving employee health and safety.
Cobots are optimizing more applications in every sector, from food processing to plastics, helping businesses remain competitive and protect their workers.
Optimized for output or precision
Resilient companies use UR cobots to adapt and expand, even in difficult times, and the robots are especially suitable for business conditions that require agility. Users can optimize cobots as required for output and precision, move them from one task to another, and redeploy them for new product lines. Cobots are easy to set up, and they can get to work quickly, so users can start reaping the benefits immediately.
With its simple DIY programming and setup, most users are in production within hours of acquiring the product. Vectis' UR CAP and controls package enables weld parameter control on the pendant and weaving capability; it results in extreme ease of use, with no coding or programming experience required. The device is perfect for repetitive small and medium parts that welders typically hate handling, like brackets, sub-assemblies, or piece parts. With a mobile cart and safe cobot arm, portability and versatility are assured.
The following industries are being transformed profoundly by these robot arms from Advanced Motion & Controls:
– Automotive. Processes in this sector are automated with higher consistency and quality. Production lines get high flexibility to adapt to new demands quickly and competitively.
– Electronics. Precise, flexible, and easily redeployed cobots support agile production needs while safely distancing employees on repetitive work and boosting output.
– Food processing. With safe, affordable, flexible UR cobots, food-processing operations master picking, packing, and palletizing operations. Users can quickly redeploy lightweight robot arms for various product lines or set up small-footprint or mobile palletizing systems.
– Metal and machining. With cobots, workers respond quickly to any size of order, without concerns about staffing, training, or safety. Unskilled labour and inconsistent quality are no longer issues.
– Medical and cosmetics. Flexible, cost-efficient cobots make hygienic, low-touch production easy, solving production inefficiencies among many product lines and applications.
– Plastics and polymers. Workers are spared from repetitive, low-value work, from injection or blow moulding to three-dimensional printing. Cobots can operate multiple machines at once, and users can move them to secondary processes easily for part finishing and packaging.
– Education and science. For new efficiencies in laboratory analysis.