Brady Launches New Permit Control Stations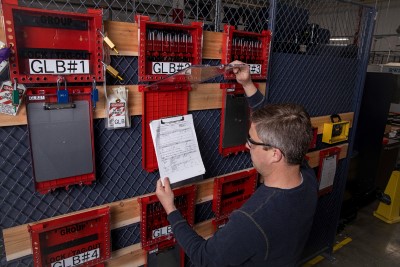 Aug 5, 2021
Brady has recently announced the launch of their new Permit Control Station product line.
Group lockout scenarios get more complicated as more people are added to the process. And while more workers mean less equipment downtime, without the right devices in place, they also mean increased risk for accidental re-energization. That's where the Brady Permit Control Station comes in.
For an effective group lockout program, lock boxes and corresponding paperwork go better together. Put simply, it's a best practice for compliance and efficiency. And with this solution, your customers can keep equipment and documentation front and center at all times for better group lockout communication and coordination.
Ensure workers can easily identify documents and equipment whenever necessary by wall-mounting your station at the point of need.
Access documents or take them with during lockout validation via the quick-release case or removable clipboard, or both.
Verify lockout permits and checklists through the clear viewing panels and always keep vital information, devices and identification on display.
Mix and match your full solution or order components separately to complete an existing setup.
The lightweight material lets you set up and handle with ease, while the tough, rugged design stands up to wet, dusty and damaging environments.
To learn more about the Brady Permit Control Station, visit bradycanada.ca/