Balluff Adds Compact Magnetic Encoder for Safety Applications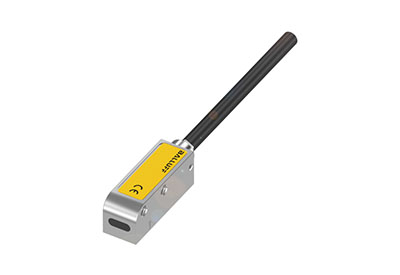 June 4, 2021
The latest addition to Balluff's safety portfolio delivers precise, non-contact position measurement for demanding automation applications.
Balluff's BML SF2 magnetic safety encoder measures and transmits safe incremental position information to a connected safety control system using a G interface, an analog signal with 1 Vpp (sin/cos). The G interface is certified for applications up to Safety Integrity Level 2 (SIL 2) per EN 61800-5-2 / EN 62061 / IEC 61508 and Performance Level d (PL d) per EN ISO 13849-1.
With its long measuring length of up to 48 m and repeat accuracy of less than 1 µm, this compact (12 x 13.1 x 35 mm), easy to integrate measuring system has universal application. It is especially useful when mounting tolerances pose a challenge to high system performance. At a mounted distance of up to 1 mm you still achieve a system accuracy of ±12 µm.
The BML SF2 magnetic encoder is an ideal partner in demanding applications, especially those where other distance and angle measurement solutions cannot provide the needed accuracy and installation tolerance. This combined with its IP67 rating makes it well suited in a wide range of industries, including mobility, packaging, food and beverage, metal working, and general factory automation.
Learn more at: www.balluff.com.