Festo Introduces at Pack Expo AI for Improved Uptime, Quality, and Energy Efficiency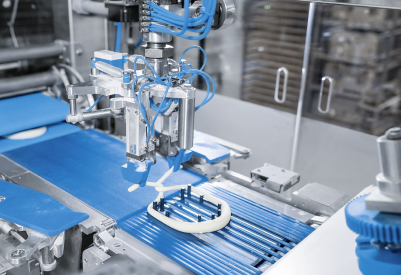 October 21, 2022
Soft grippers gently hold dough as it is twisted into a pretzel shape
Festo introduces at Pack Expo 2022 the Festo Automation Experience (AX), a new artificial intelligence (AI) platform for predictive quality, predictive maintenance, and energy optimization. Using advanced analytics, Festo AX maps data to learn a component, machine, product, or energy system's healthy state. Festo AX provides actionable information to correct anomalies when data begins trending out of normal. Festo demonstrates AX at Pack Expo 2022, October 23-26, McCormick Place, Chicago, Festo Booth #N6213.
This new solution from Festo improves machine utilization and quality, lowers waste, and ensures energy optimization. It provides a bridge between advanced analytics arising from operational technology and IT-based business intelligence. Festo AX gives companies a tool to be more competitive and sustainable. It also provides original equipment manufacturers with a notable differentiator for their machines and systems.
Festo finds that Festo AX can improve process transparency by 100%. It can lower waste by more than 50% and product rejection costs by more than 45%. Machine availability can improve by more than 25%. Unplanned downtime can fall by more than 20%.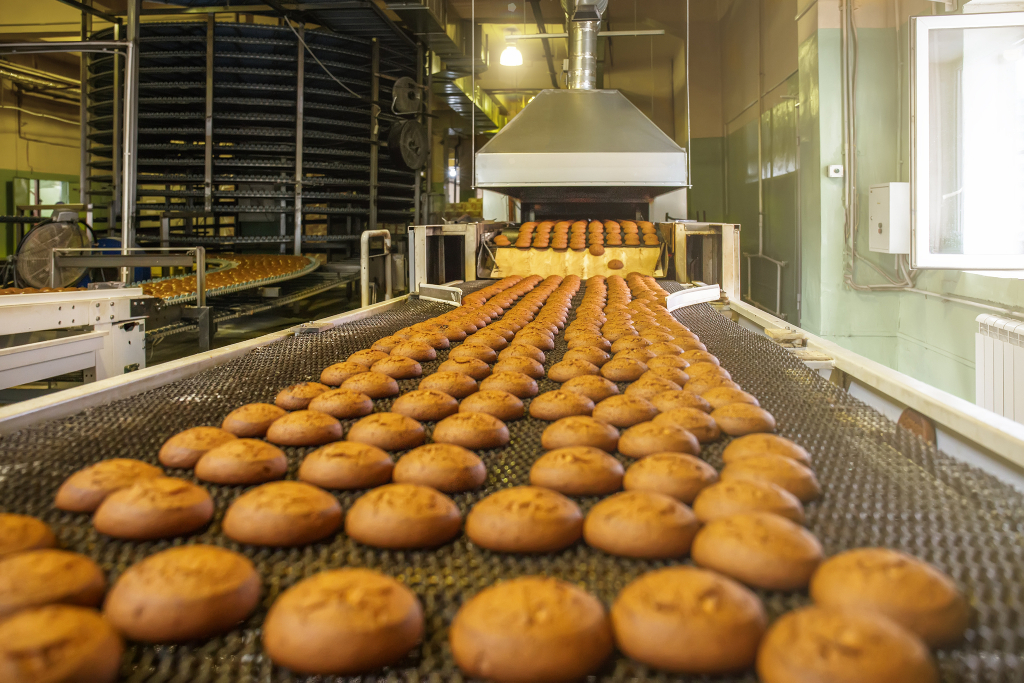 Festo AX, a new machine learning and artificial intelligence (AI) software platform, ensures maximum uptime, product quality, and energy efficiency in a host of packaging line applications
Festo offers AX turnkey solutions for food and beverage packaging, pneumatic components, welding systems, and machine tools. Festo AX modules include predictive maintenance, quality, and energy. Proof-of-business value can be ascertained in weeks. Pilot projects, for example, typically take 6 to 12 weeks to complete. Once the business case has been made, rollout to machines, lines, and factories can be accomplished in three to six months.
Linking Festo AX to the Festo Smartenance or third-party maintenance management programs further enhances effectiveness and efficiency by giving the packaging maintenance department a major new tool to keep the machines making quality products at optimum energy consumption. Visit Festo Automation Experience – Festo AX – for more information.
A must see at the Festo booth is the Simplified Motion Series (SMS) of electric actuators. SMS combines the simplicity and cost effectiveness of pneumatics with the benefits of low energy consumption and precision positioning of electrics. SMS actuators deliver infinitely variable three-position motion for an economical all-in-one servo-motion solution. The SMS series includes ball screw, toothed belt, mini slide, electric cylinder, piston rod, and rotary actuator styles for an extensive range of applications. In keeping with the Festo emphasis on less engineering time for customers, setup for two or three positions is simple, allowing for fast startup and nimble changeover.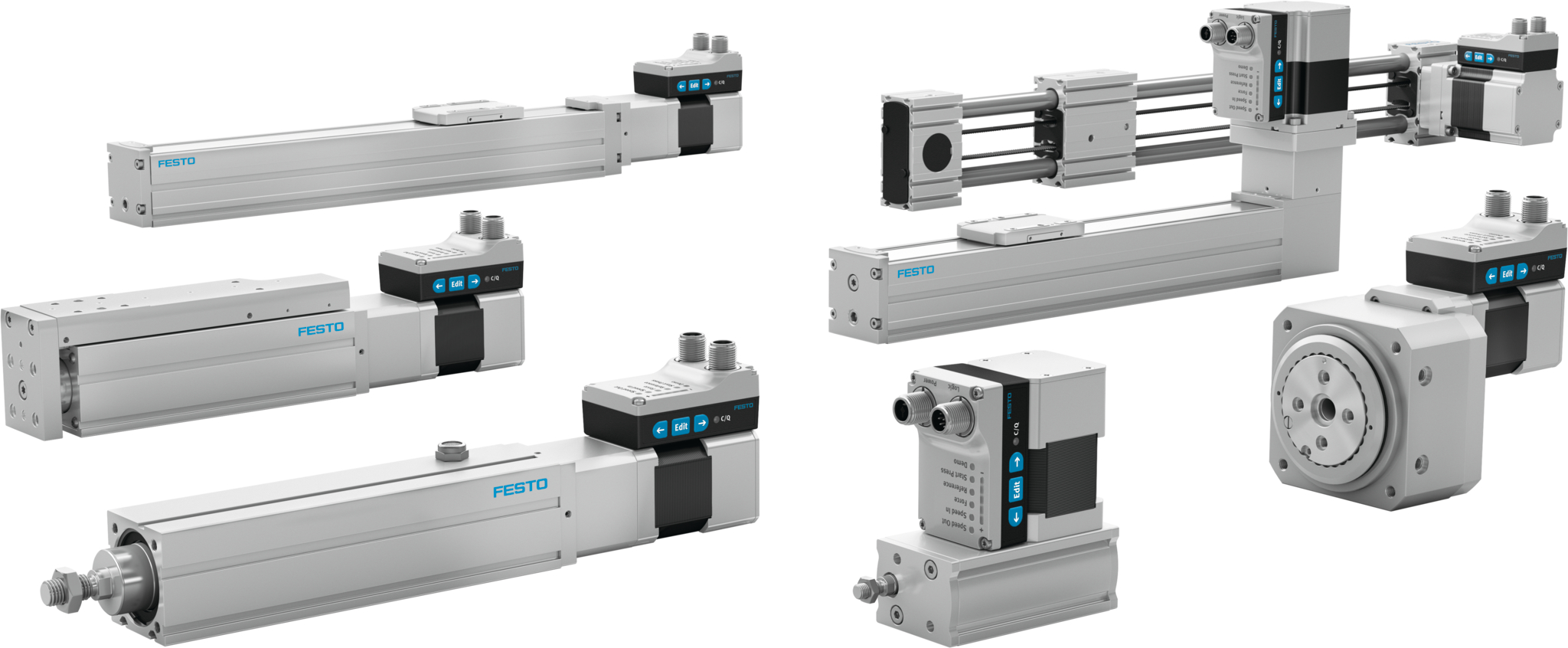 These SMS axes from Festo provide an economical and easy-to-use solution for electric motion
The Festo exhibit includes a range of electric actuators for multi-axis motion. Utilizing Handling Guide Online, a free online configuration tool, single or multiple-axes motion systems can be specified in less than 30 minutes. Configuration requires only that basic operational parameters such as stroke, payload, cycle time, and available voltage be entered into the online tool. There are no equations to work. At the end of the session, Handling Guide Online users receive a quote for the system, ship date information, and 2D and 3D models.
For Handling Guide Online-based Cartesian robots, Festo's behind the scenes software, Festo Motion Control Package, automatically specifies the drives, motors, and other components required for that robot, saving hours of engineering time. The control panel arrives fully assembled for plug-and-play startup. Festo Motion Control Package systems utilize function block software that enables the robot to be operating in a matter of hours.
Festo also shows new hard and soft robotic grippers. The new soft grippers function like human hands to gently handle individual goods without bruising or causing other damage. Grippers are designed to meet the key requirements of food safety and ease of cleanability, quick and simple changeovers, and low energy consumption.
Festo showcases the VTEM Motion Terminal, the world's first intelligent valve terminal. The VTEM features the latest available downloadable apps, including energy savings. Because the downloadable apps are changed for new capabilities, not the hardware, a single motional terminal can replace up to 50 different hardware components. This gives OEMs, integrators, and end users the ability to lower inventory, standardize on fewer components, and bring systems to market faster.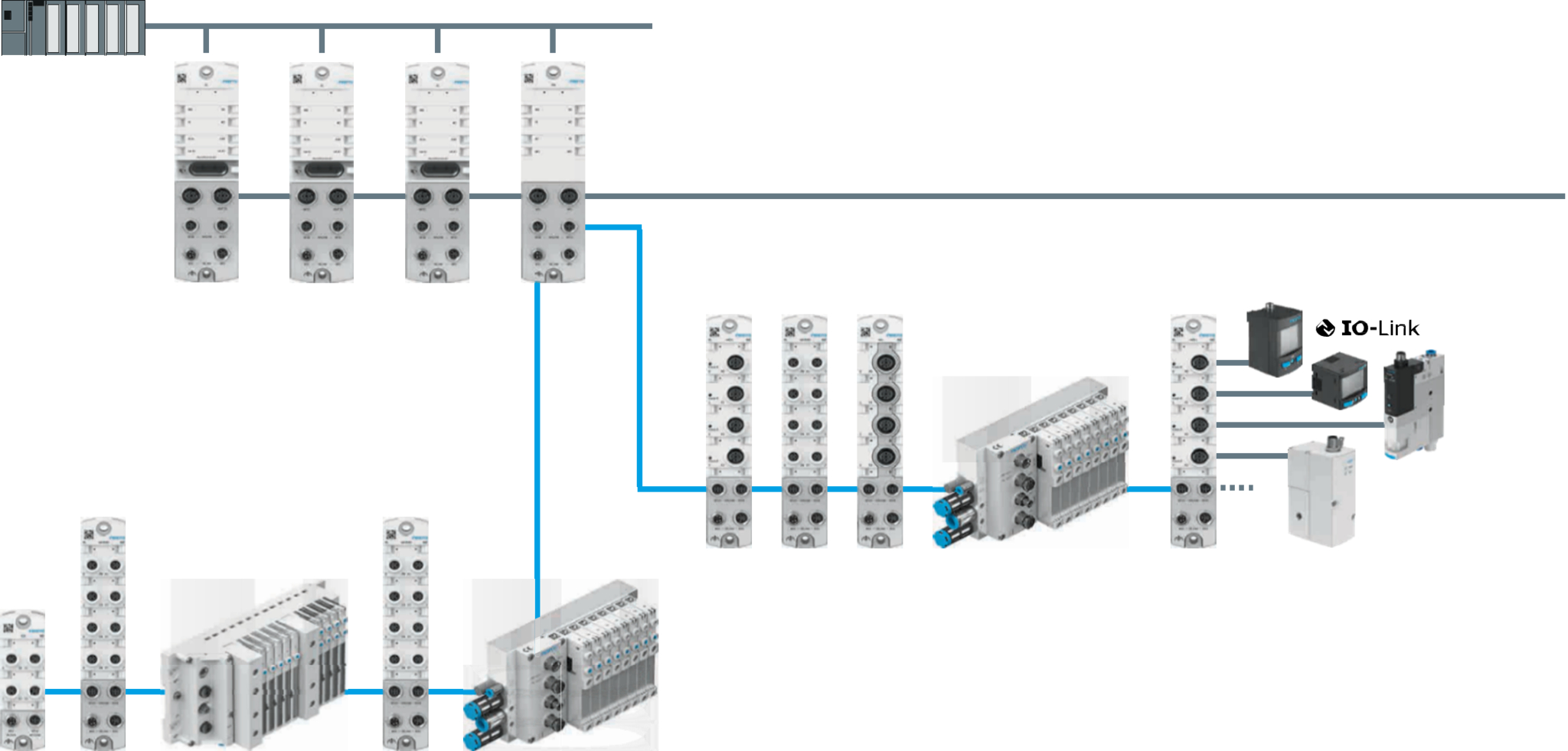 The bus modules (top left) connected to the controller, daisy-chained digital and analog input blocks (center), and valve terminal (lower left) illustrate the CPX-AP-I decentralized I/O topology
Festo features its Ethernet-based CPX-AP-I decentralized I/O. OEMs, integrators, and end users can network up to 500 I/O modules on a single bus node and mix and match both electrics and pneumatics on the same I/O network for greater flexibility and opportunity for developing unique solutions. A free online configuration tool speeds design while plug-and-play performance reduces wiring and shortens installation time. CPX-AP-I is compatible with the leading communications protocols, including Ethernet/IP, PROFINET, and EtherCAT, supporting the Festo emphasis on seamless connectivity.
For more information on the advantages of working with Festo in terms of less engineering overhead, fast time to market, and seamless connectivity, visit https://www.festo.ca