Advanced Motion & Controls: Universal Robots e-Series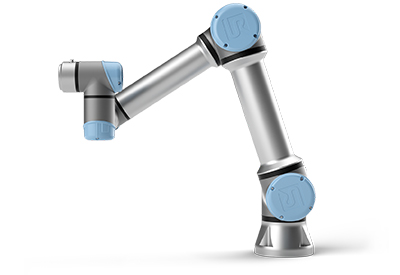 February 4, 2021
Advanced Motion's e-Series cobots exemplify all that they believe in: productivity, adaptability and reliability. Equipped with intuitive programming, versatile use and an almost endless list of opportunities for addons, the e-Series is able to complement production regardless of your industry, company size or product nature.
Built with the future in mind, the e-Series is designed to grow in capability alongside your business, taking on new tasks and finding new uses so you will always be able to stay ahead of your competitors.
Five Key Benefits
FLEXIBLE DEPLOYMENT
Explore the possibilities of robotic deployment with Universal Robots. These cobots are lightweight, space saving and easy to redeploy to multiple applications without changing production layouts. They can be moved between tasks quickly and are able to reuse programs for recurrent tasks, giving customers the flexibility to automate multiple manual tasks within one production facility even with just one cobot.
The e-Series' versatility is supported by the Universal Robots+ ecosystem, which offers a range of end effectors and software to meet every configuration and application need.
EASY PROGRAMMING
Forget programming school. With Universal Robots, anyone can become a robot programmer. Save on the costs of a professional programmer with Universal Robots. The patented and highly intuitive 3D-interface allows anyone within the production facility to become a robot programmer even without prior experience. A user friendly and highly intuitive teach pendant allows operators to program a cobot by moving its arms to the desired waypoints, or simply using drag-and-drop functions on a touchscreen tablet.
Even the most complex tasks can be taught to the cobot with Universal Robots' integrated Force Torque Sensor. Highly sensitive to even the slightest movements, the sensor enables their cobots to be programmed with precision for tasks where accuracy is of paramount importance.
FAST SET-UP
Reduce robot deployment time from weeks to hours with Universal Robots. These cobots are equipped with single phase A/C power source compatibility and an intuitive user interface for easy set up installation and integration into your production line.
Changing your cobot's task is a seamless affair as well. Wrist tool I/O connectors and a high speed communication bus enable hassle free integration with Universal Robots+ products to maximise productivity so you will always be ready to plug and produce.
QUICK PAYBACK
Universal Robots brings all the advantages of advanced robotic automation and collaborative robots to customers without any of the traditional added costs associated with robot programming, set-up and safety guarding.
Universal Robots makes robotic automation an option for small and medium enterprises, small batch production runs and other setups where traditional solutions may be too expensive. Firefighting equipment manufacturer Task Force Tips is an example of one of such enterprise, where the safety guarding and inflexibility associated with traditional robotic solutions hindered the effectiveness of automation. With the addition of 4 Universal Robots cobots to tend their CNC machines, however, Task Force Tips was able to reduce staffing requirements while raising productive hours, registering Universal Robots' fastest recorded payback of 34 days.
Built with the needs of these businesses in mind, the e-Series' boasts a fully upgradeable software platform that can grow in capabilities to make it a lasting and worthy long-term investment.
SAFE & COLLABORATIVE
Advanced Motion's cobots are able to take over strenuous tasks in dangerous or dull environments and minimize exposure to dangerous chemicals or gases in the production process. With their patented safety features, you can fuse the best of human ingenuity with robot competency for accelerated productivity and growth. Safety mechanisms like customizable stopping times and collision detection capabilities in the cobots ensure safety when cobots work hand-in-hand with operators.