Advanced Motion & Controls: Canada's Sole Platinum Distributor for UR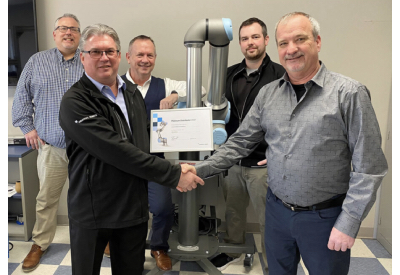 May 11, 2022
Universal Robots (UR) is trusted worldwide for its line of collaborative robots, or "cobots", which are available in Canada from Advanced Motion & Controls Ltd. In fact, Advanced Motion & Controls is the sole Canadian Platinum award-winning distributor for UR products, with UR factory-trained sales, application, and service engineers who help customers to find the perfect UR cobot solutions for their specific needs. This designation is a hallmark of the supplier's credibility in the marketplace.
Part of an elite club
UR bestows its Platinum status on suppliers that commit themselves to serving customers as highly trusted sources for the world's leading cobots. Platinum award-winners make up a very elite club of distributors that work extremely hard to help clients to overcome the common barriers associated with automation.
As the only Platinum distributor of UR solutions in Canada, Advanced Motion & Controls is a full-service stocking distributor that partners with numerous international manufacturers to meet the factory automation challenges of its customer base. Based in Barrie, Ont., the supplier has provided exceptional service and support for more than 35 years. Its knowledgeable staff offers products that use the latest electronic, pneumatic, robotic, and mechanical systems, making the company the top source of industrial automation solutions and components.
The UR team has reinvented industrial robotics with its lightweight, flexible robot arms, with established support and service in more than 40 countries around the globe. These Danish-designed cobots can automate applications across the entire industrial market, with very fast return on investment, confirming that UR cobots are always an affordable option for manufacturing operations.
These cobots from UR comply with the requirements of the International Standards Organization, and payloads of 3½, 12½, and 16 kilograms are available for customers. Collaborative robot arms are easy to use and operate right alongside workers to deliver precision handling and performance. Lightweight and flexible, cobots can be programmed by anyone through their intuitive touchscreens, and they are faster, simpler to implement, and more affordable than other options.
Trust Advanced Motion & Controls to deliver Platinum service with UR cobots.
To learn more, contact Advanced Motion & Controls by clicking here