Weidmüller's LED Systems and TwinCap Remote Maintenance System
Power of the Future: Weidmüller Equips DemoSATH Floating Wind Turbine with Interior Lighting and Bolt Monitoring
March 21, 2023
Weidmüller's LED Systems and TwinCap Remote Maintenance System. The future of offshore wind lies beyond the flat shores. Floating wind turbines can generate electricity at almost any sea depth, thus offering outstanding potential for CO2 reduction. Weidmüller, a world-wide pioneer and partner for digitalisation and automation of industry for more than a decade, has for the first time equipped a prototype of this floating future technology with two newly developed customer solutions: The integrated LED system illuminates all accessible parts of the wind turbine on the high seas and the TwinCap remote maintenance system detects damage to the screw nuts in the blade bearings at an early stage.
Two nautical miles off the coast of Bilbao, the Spanish company Saitec Offshore Technologies has launched the DemoSATH floating wind turbine platform which will be located in an 85-metre-deep seabed offshore location. The demonstration project is a barge type floating structure using SATH technology that resembles a catamaran and is moored at only one end with a single point mooring, allowing it to rotate freely to harness the power of the wind offshore. On the tower, a 2 MW turbine will generate green energy for 2,000 households.
Integrated LED system provides lighting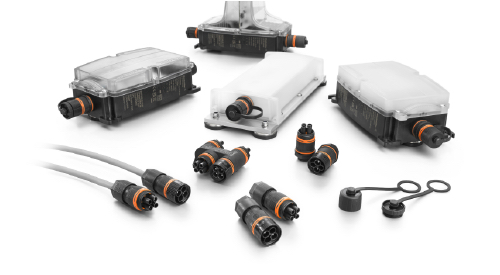 Weidmüller has contributed the interior lighting system exclusively for DemoSATH: The tower, nacelle and the accessible part of the floating body are equipped with an integrated lighting system consisting of LED sets for regular interior lighting. As the system is battery-buffered, emergency lighting is also secured in the event of a power failure, thus ensuring that there is adequate illumination for work safety.
"The Weidmüller Wind team put together a complete lighting package following a lighting simulation and a design-in. Depending on the customer's specifications, the individual set solutions include different direct-current LEDs or alternating-current variants," explains Jonas Fuhrmann, Product Manager at Weidmüller. "All of the installed lights, including the connections and plugs, are protected against vibrations and shocks and are moisture-resistant in accordance with protection class IP67," he adds.

onas Fuhrmann, Product Manager at Weidmüller
Aitor Sanz, Offshore Wind MEP Manager at Saitec Offshore Technologies, says of Weidmüller's newly developed customer solution: "We appreciate the great performance of Weidmüller's integrated LED system because the system is really stable thanks to its designed redundancy. This lighting solution provides the highest level of safety to our on-site technicians."
TwinCap remote maintenance system detects damage to screw nuts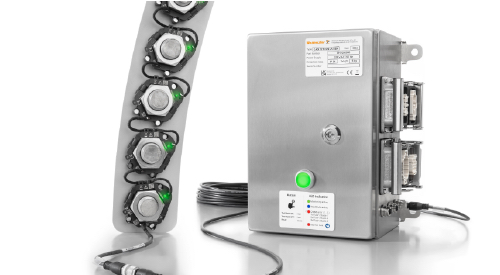 Weidmüller has developed the TwinCap remote maintenance system to ensure that technicians rarely have to venture out onto floating wind turbines, as it permanently checks the nuts that secure the rotor blades to the nacelle. Even when the wind turbine is firmly anchored in the ground, the nuts are exposed to heavy loads. The blade bearing screws are far more exposed to the forces of nature when the offshore wind turbine is floating as well as rotating around itself.
"To detect and assess damage to the screw nuts as early as possible, we've developed the TwinCap remote maintenance system. This detects both visually and digitally whether a blade bearing needs to be serviced on site," says Steffen Niggemann, Team Leader of Business Development at Weidmüller. Automated damage detection minimises the need for regular on-site maintenance, which significantly reduces costs for shipping and personnel, especially in the difficult-to-access offshore sector.

Steffen Niggemann, Team Leader of Business Development at Weidmüller.
"With the TwinCap sensor system, Weidmüller has developed a damage prevention system that allows us to detect and repair damage in the blade bearing as soon as it occurs. This prevents cost-intensive consequential damage," summarises Aitor Sanz.
Weidmüller sees great potential in collaborating with innovation leaders such as Saitec Offshore Technologies to support the global development of the emerging floating wind technology as the power supply of the future.
Related Story
Shelley Automation will market Weidmüller's complete portfolio in the Ontario region. That includes I/O systems, industrial Ethernet, relay modules, and power management, to name a few.