ctrlX Automation with Dave Hinder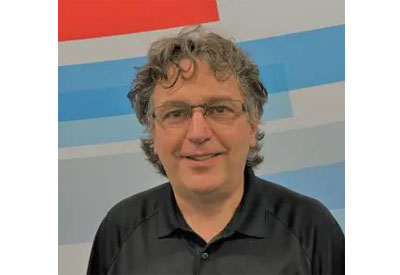 December 10, 2020
By Sarah Pickard
What if customizing your factory automation could be as easy as downloading an app? That's the reality Bosch Rexroth seeks to provide with the ctrlX AUTOMATION system. Dubbed the 'smartphone of automation', the ctrlX AUTOMATION system seeks to make automation more user friendly, and give more control to smaller manufacturing companies who may not be able to develop their own specialized applications while using standard control systems.
During this year's German Technology Day, we headed over to the Bosch Rexroth booth to sit down with Dave Hinder, Product Manager, Electric Drives & Controls, to learn more about this system.
Q: So, what sort of apps are available with this system?
A: Motion, PLC, IoT, Firewall, VPN etc. You can also create your own apps using any programming language supported by Linux. Ie. C+, Python, Google Blockly, Java, Javascript, etc.
Q: Where do you see ctrlX AUTOMATION having the biggest impact?
A: Everywhere! This automation not only works for machine automation, but also places like building automation, controlling climate, security, etc. Because of the endless possibilities, your imagination is the only limitation to the uses of ctrlX AUTOMATION. You can be sure that in the next 5 to 10 years this way of doing things will be the standard. ctrlX AUTOMATION is just the logical step to the future for automation.
Q: How user friendly is the process? Can anyone with a basic knowledge of Java program a completely automated factory, or does it take a significant amount of training/practice to get things off the ground?
A: A person who knows a language has a head start on the programming side. What they lack is the machine knowledge and processes required to get the job done. They also need to understand the technology they are commanding, such as motion control and servo's. That is where the training is needed.
Q: Are there any particular sectors that have really grasped onto this system? Mining, food and beverage, etc?
A: Cartesian robots are our initial focus customer applications. Any product handling applications where blended point to point movements are needed. Next will be printing and converting and packaging machinery. Later on, we will be offering CNC control as well.
Q: If I wanted to install this system, is there any specialized equipment I would need, or is it a matter of software installation?
A: Depends on what you want to do, ctrlX AUTOMATION offers a complete flexible hardware system for your machine design. What you are doing would dictate what products are needed. For persons working from home, you can start a project and get a lot of it developed virtually without having any hardware!
Q: Approximately what stage would the hardware begin to be necessary?
A: It all depends on the application. In some cases, you could do most of the program and just finish it off with the hardware.
Q: Anything else particularly interesting about the ctrlX AUTOMATION?
A: ctrlX AUTOMATION also geared toward the future generation of persons: 'the 'y' generation that are familiar with the modern programming languages and will be the ones developing new machines and automated solutions. ctrlX AUTOMATION has been designed to reduce its overall footprint within the control cabinet. Using the most modern power technologies and processes enabled Bosch Rexroth to minimize the cabinet volume required by the components. ctrlX AUTOMATION also provides a new ctrlX WORLD app ecosystem and ctrlX developer community to help new users understand, grow and develop their ideas.
Learn more about ctrlX Automation here.