Automation Is the Ultimate Space-Saver, Even In Shipping Wine Corks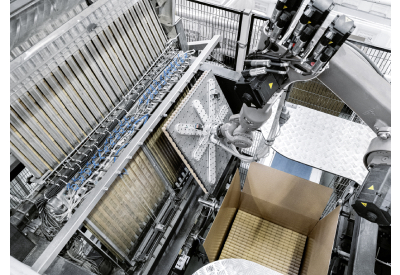 July 20, 2022
Corks are so light they float, but when shipped in bulk to wineries around the world, they tend to be big space-takers. In order to save energy and CO₂ emissions during transport, Portugal's ESI (Engenharia, Soluções e Inovação) has developed a system for packaging corks that reduces packaging volume by 30% and dispenses with plastic bagging.
Traditionally, sealing wines with oak corks creates a leak-proof barrier while still allowing the wine to "breathe" a little: Just enough ambient air can permeate the cork for the wine to mature but not spoil. However, the usual way of shipping corks – packing them in plastic bags and stacking them on pallets – is inefficient. The instability of the filled bags often complicates logistics and can damage some of the product.
In Portugal, loading bottle corks for export is made more efficient with Festo technology. Here, packaging corks in neat rows saves 30% of space in shipping containers, allowing larger volumes to be transported in each box.
ESI developed an innovative robotic system for packaging corks in an orderly, space-saving manner in cartons. This reduces the volume for transport – compared to the usual bags – by 30%, ESI commercial director Gil Sousa explains:
"This means a big reduction in logistics costs, which has a direct impact on the final cost of the product and significantly reduces the environmental footprint of transport. This solution underlines the cork processors' commitment to environmentally sustainable processes," adds Sousa.
Components resistant to dust
ESI's patented solution consists of an autonomous cell and palletizing system, with an articulated robot and pneumatic components from Festo. Since the production environment is filled with small cork dust particles, the selected components had to have high abrasive resistance.
Festo's compact DSNU round cylinders are rugged enough for this dusty environment, and ideal for compressing the corks while they are sucked in by the vacuum cups and placed in the carton. The 20 cylinders are controlled by a VTUG valve terminal. Despite its compactness, this small valve terminal is noted for its short reaction times, high flow rates and excellent energy efficiency.
These particular components are part of Festo's core product range – 2,200 products from all levels of the pneumatic and electrical control chain – from compressed air preparation to valves, cylinders and accessories such as matching hoses and screw fittings. They are stocked worldwide for fast order turnaround.
Relies on Festo support
"The partnership with Festo has existed since we were founded (in 2007)," says Sousa. "Festo has given us technical support in the selection of components, provided us with material for tests and helped us validate concepts. Festo components and solutions have helped us to create innovative solutions that have enabled our customers to increase their productivity and competitiveness."