Welcome to SPS 2022 from the Comfort of Your Home!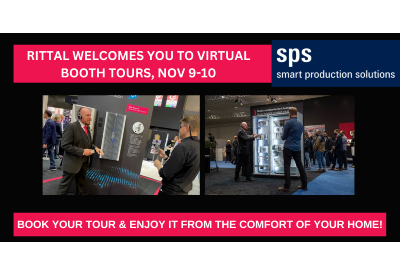 November 9, 2022
Visit SPS 2022 from anywhere in the world!
After three years, SPS – Smart Production Solutions is back again! Rittal is looking forward to seeing their customers in Nuremberg once again!
Some key Rittal highlights include:
"Connecting Ecosystems. Smarter."
"Three Digital Twins"
and many new products and solutions like the sustainable cooling unit blue e+ (especially the S Version)
Those visiting Nuremberg can drop in to see Rittal at Hall 3, Booth 121 where we bring together Rittal, EPLAN, German Edge Cloud and Cideon.
Those that are unable to attend…
Click here to book your Rittal virtual booth tours on Nov 9 or 10!
To see where Rittal will be next, please visit us at www.rittal.ca/events