Product Updates: A Complete List from Vention's Q1 2023
April 17, 2023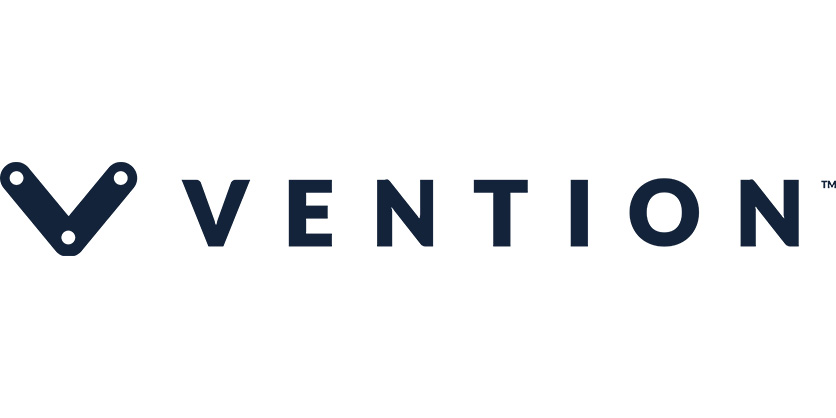 2023 is off to a busy start! As we head into Q2, we are taking a look back at our biggest announcements, product releases, events, and education and community launches from the last three months.
Announcements
New Distribution Center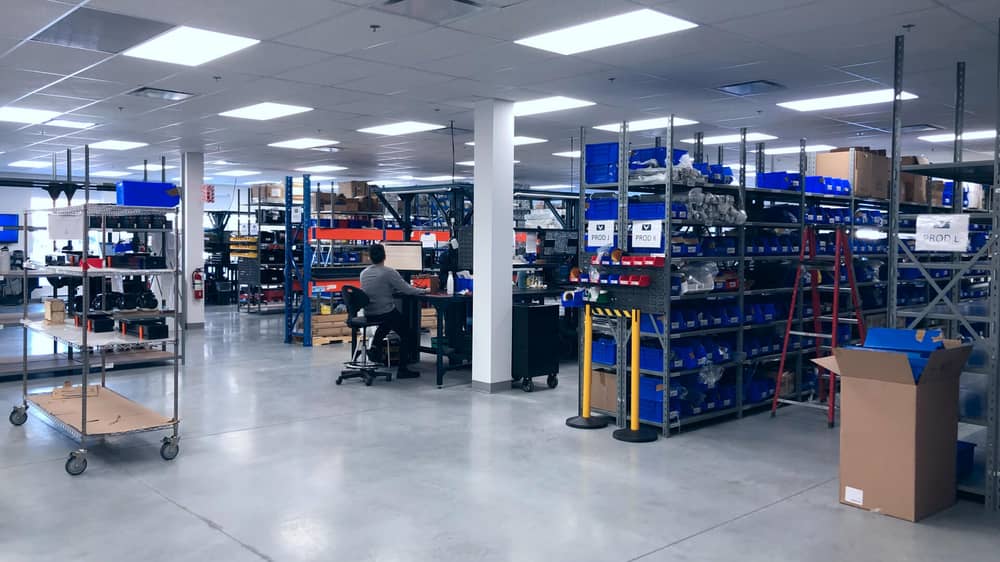 In January of this year, Vention opened a new distribution center in Montreal. With over 70,000 sq ft of additional space to assemble, test, package, and ship, we are shipping all your automation needs faster than ever before. In Q1, 85% of orders shipped on time and in full, and 48% of orders shipped the next day from our new distribution center.
Manufacturing Automation Platform (MAP)
Software
State Machine for MachineLogic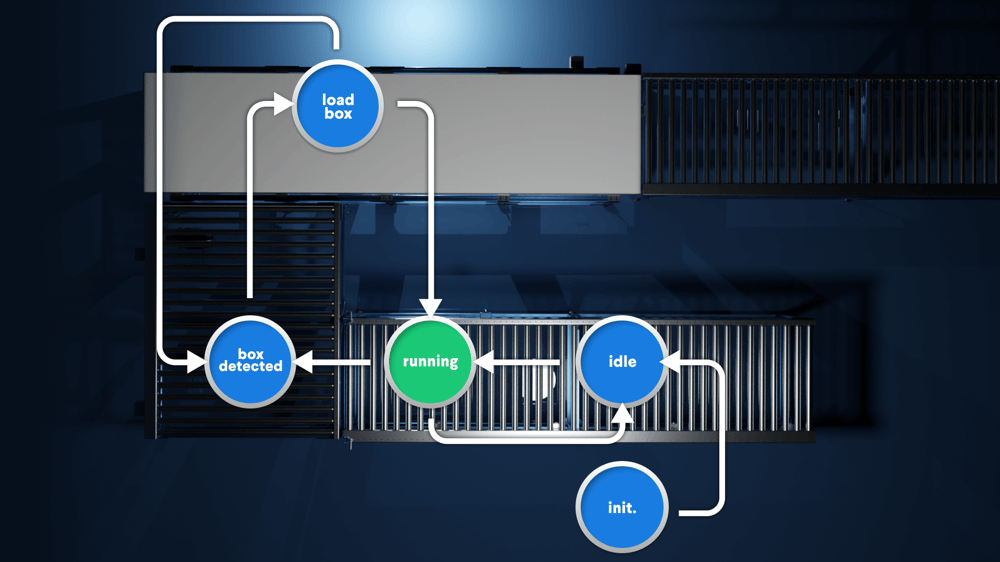 Low-code automation is even more powerful with State Machine. By associating your MachineLogic sequences to a state, you can define transitions in a simpler way and ensure your machine never finds itself in an invalid state. Quickly and successfully program automated equipment such as conveyors, cobot palletizers, and much more.
Learn more about State Machine.
Lambda Functions
Create dynamic recipes and evaluate complex expressions with lambda functions. Lambda functions leverage Javascript to implement advanced and complex functions within MacineLogic, raising the ceiling of how fast and simple automating your equipment can be. Create motion commands, wait commands, output commands, loop commands, and more.
Hardware
Medium Payload Cobot Palletizer

Our new 10kg+ cobot palletizer offers extended range, which is ideal for lighter-weight boxes that are piled high and out-of-reach for your other applications. This new palletizer can help you automate repetitive tasks, therefore eliminating labor shortages from your end-of-line packaging. Start seeing payback on your investment in under a year.
Explore our different palletizing options.
Timing Belt Conveyor
Whether you are looking to build a full assembly line or just need simple product conveying, Vention's timing belt conveyors are made of modular components allowing you to create custom configurations based on your specific factory needs. Offered in four fully customizable configurations, from small products to large material handling, get the flexibility of a custom machine, with the peace of mind of a vetted plug & play ecosystem.
Learn more about our timing belt conveyor.
Wire Mesh Safety Enclosure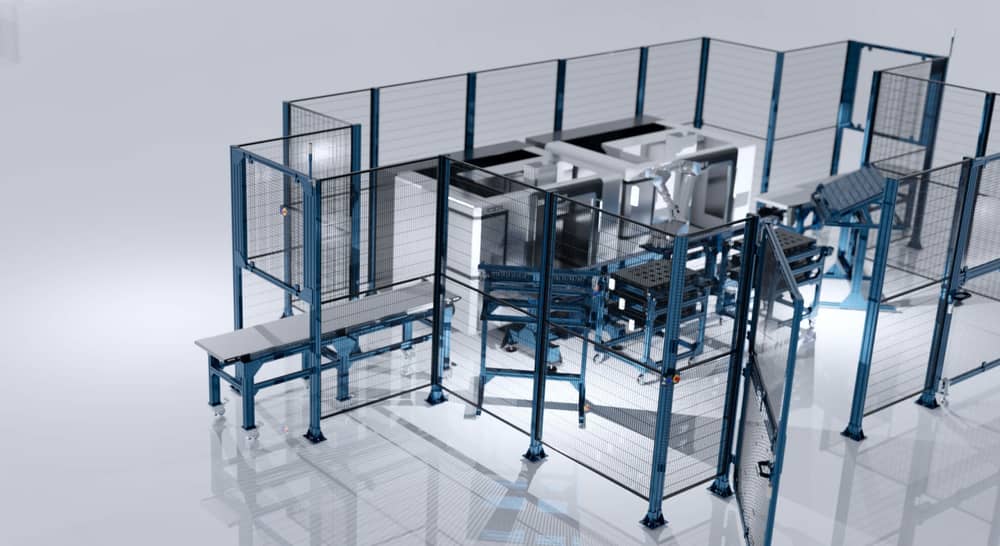 Keep your team safe with our modular and entirely configurable safety enclosures. Our newest safety enclosure is made of extrusions and wire mesh for easy customization, including the option of adding doors for operator access.
Learn more about our safety enclosures.
Events
ATX West 2023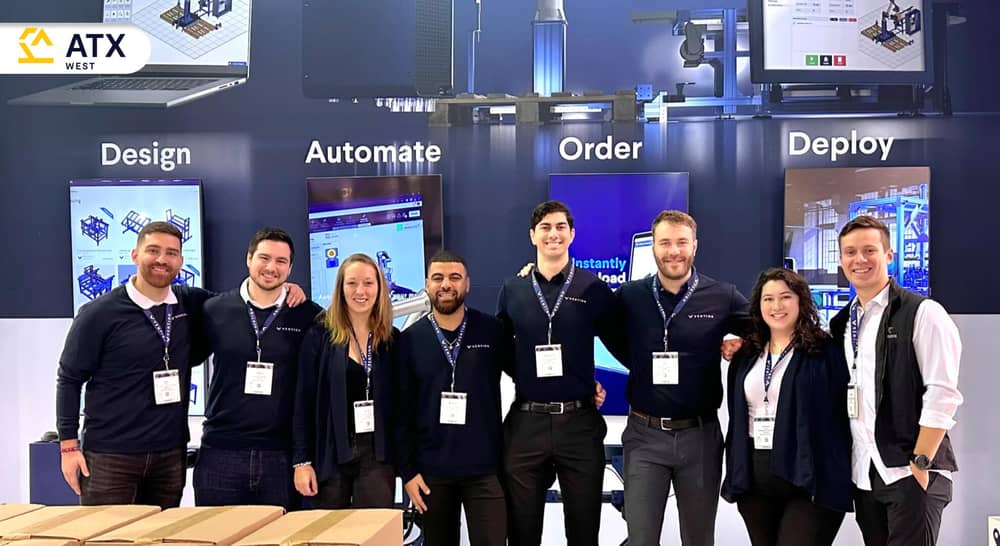 In February, Vention attended one of the largest advanced manufacturing events on the west coast, IME West. Leaders across the industry showcased their solutions that overhaul an automation process or help update and automate current manufacturing processes. At the show, Vention revealed a newly redesigned booth and showcased four new demos detailing how our manufacturing automation platform (MAP) can help manufacturers automate their factory floors three times faster, with up to 40% less cost. Vention hardware was also featured in several partner booths.
Read more about our experiences at the event.
Global Industrie 2023

In March, Vention attended Global Industrie, the leading manufacturing industry exhibition in Lyon, France. Vention and our Automation Partners, Groupe MCA and DEFI 12, presented four demos designed and deployed with our Manufacturing Automation Platform (MAP), including a cobot palletizer, and a machine tending cart.
Read more about the event in our recap.
Virtual Events
MAP and MachineCloud Webinar with GlobalSpec
In partnership with GlobalSpec, Vention's Product Manager Ariane Dang spoke about Vention's Manufacturing Automation Platform (MAP) and its newest addition, MachineCloud, our software-assisted deployment solution.
Knowledge Group on Robotic Sanding with Ébénisterie Classique
Vention is excited to launch a brand new initiative to enable manufacturing professionals to deploy automation equipment with confidence: The Vention Knowledge Group. The first Knowledge Group was hosted by Ébenisterie Classique's Aboudi Greige and included a client testimonial and explanations from application experts, including a chance to ask questions and share their own experience throughout their automation journey.
Are you attending Automate in Detroit, MI? An in-person Knowledge Group will be hosted at our booth. Keep an eye out for more information.
Education & Community
MachineCloud Tutorial
Watch our tutorial to learn how to deploy your next automation project using MachineCloud. MachineCloud allows you to deploy in minutes with step-by-step, software-assisted deployment.
Lambdas Tutorial
Watch our tutorial to learn how to create dynamic recipes and evaluate complex expressions with lambda functions.
New Design Library & Featured Designs
Our design library looks a little different. You can now easily navigate ready-to-deploy designs or find inspiration from our community designs published by automation enthusiasts. By publishing your design to our community designs, you can grow your influence, inspire others, and potentially have your design become a "featured design," rising to the top of the page. Visit our e-commerce platform or talk to one of our experts about customization options.
Explore our new design library.
Celebrating Women's History Month
For each week of Women's History Month, Vention published a profile on one of the incredible women on our team. We also took the opportunity to share their thoughts and give advice to other women working in male-dominated fields, such as manufacturing.
Read more about our four incredible women.
Vention Automation Partners (VAPs)
In 2020, we launched the Vention Automation Partner (VAP) program. Three years later, the VAP program has over 100+ partners worldwide and a 2x yearly adoption rate. In Q1, we add 15 new VAPs to our channel, further enabling leading automation providers and machine builders to deploy highly customized equipment faster and more profitably by leveraging Vention's Manufacturing Automation Platform (MAP).
Learn more about the VAP channel.
Related Product
For the past 30 years, industrial automation has undergone relatively few changes to the way automation is designed and deployed. Traditional automation technology was developed (and priced) for high-throughput manufacturing, making it most accessible to only those who could afford complex, custom integration services. This left most manufacturers—the ones who would actually benefit from the democratization of automation—behind.